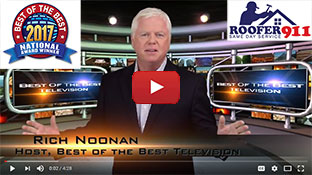 We Proudly Accept
Testimonial
What People Say About Us
I had a leak this past week after some rain and snow. The source of the leak wasn't easily identifiable to me. I had concern about long term damage, and wanted to get it addressed quickly. I called Roofer911 on Friday afternoon; I looked at many different websites of roofers in the N. VA area, but I was interested in Roofer911 Infrared diagnostics...where was the water coming from, exactly; how could it be determined; and how confident can you be? Steve (one of the owners) came out himself on Saturday morning to meet with me and my wife. It was immediately evident to me he knew what he was talking about. I had done extensive reading, and Steve confirmed much of what multiple expert/authors had suggested. After looking at the roof, I mentioned to Steve that we had recently had an addition added 14 months ago, including a new roof on the entire house (even the "old" part of the house.) Steve said the roof should still be under warrantee, and I realized he was right immediately...I hadn't even thought of it at the time. Regardless, Steve still spent another 20 minutes with me, explaining where he thought the water might be coming in, using Infrared to show me where the ceiling was damp, looking outside the house at the shingles, and describing how the repair should be completed. Remember...this was all AFTER he told me it should be under warrantee, so he knew another contractor would ultimately do this repair. I felt bad...he drove about a half hour to my home early on a Saturday morning. His attitude never changed, from the time he walked in until the moment he left...upbeat, friendly, knowledgeable, and HELPFUL. I have owned 5 homes in 3 states over the past 20 years, and have dealt with MANY contractors. Steve and Roofer911 would be at the top of my list...trustworthy and reliable, two of the most important characteristics when selecting someone to do work for you.
Shawn Henry
business
Arlington, VA
April 6, 2013
0.3
ROOFING BLOGS DIRECTORY
If you are a roofing contractor, home remodeler or a do-it-yourselfer who is about to begin a roofing project, the list of blogs on our site can be of great benefit to you. Here at Roofer911, you'll find hundreds of blogs about roofing on such topics as: roof installation, ventilation, ice dam, solar energy, mold, roof cleaning and much more. Whether you are a novice or an seasoned professional in the roofing trade, reading about other individual's experiences can prove as useful guidelines.
How To Handle Heavy Snow Build-up On Your Roof
After a heavy snowfall, roofers recommend removing as much snow off of your roof as possible. Heavy snow not only adds excessive weight to your roof, which can cause major roof damage, but sets in motion a really annoying (and potentially expensive) phenomenon called the ice dam.
How to have your roofing warranty voided?
This is how to honor your roofing warranty.
How To Install Roof Flashing
The most important part of learning how to install roof flashing is learning to think like water. Water follows gravity and its adhesive and cohesive properties also means...
How to Keep your Roof Garden in its Place
A roof garden is a wonderful way to go green and in some localities, a percentage of new buildings are being required to have green roofs to assist with storm runoff among other issues
How To Locate And Repair A Roof Leak - Clifton VA
How to Prevent Heat Loss Through Your Roof
If you took a thermal camera and looked at how much energy was escaping out of the top of your house, transpose those red streams of energy into a river of dollar bills that you are throwing out.
How To Repair A Leaky Window In Arlington, VA
Hurricane Damage Prevention is Simple
The amount of hurricane damage that happens to your roof is pretty much dependent on the type of roofing materials used and how well they were installed.
I fixed my gutters, so why is my basement still flooding?
Your downspout might be in the wrong place.
I only need you to caulk my roof.
I know that will stop the leak.
Ice Dam Removal And Repair In Sterling, VA
Ice Dam Removal, Prevention | 703-475-2446 | Roofer 911
At Roofer911 we stop and prevent all ice dam leaks the first time...guaranteed! Serving all areas of Northern VA, Fairfax, Loudoun and Prince William county. Free Estimates!
Ice Dam Solutions For Eager Beaver Homeowners
An ice dam is formed during the winter after a heavy snowfall followed by several days of thawing and refreezing.
Increase Energy Efficiency with Rigid Flat Roof Insulation
Rigid insulation is the material used to provide thermal resistance to a roof. Thermal resistance helps to improve the energy efficiency of a home by keeping cold and hot air from leaking through the roof.
Infrared Energy Audit for an Attic Fan Installation
Energy efficiency in a home is highly influenced by the amount of heat radiating down from the attic, but an attic fan installation can do a lot to reduce your energy bill.
Infrared Moisture Detection for Mold Prevention
Infrared moisture detection can save your life.
Infrared Roof Leak Detection In Ashburn, VA
Infrared Roof Leak Detection In Leesburg, VA
Infrared Roof Leak Detection in Reston, VA
Installing a Continuous Ridge Vent | Ridge Vent Blog
Vents that run the ridge peak of your roof allow for the maximum amount of ventilation. The soffit vents allow air in while the ridge vents allow air out. A natural vector current is formed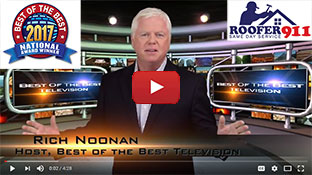 We Proudly Accept
Testimonial
What People Say About Us
They were great! Would recommend them to anybody. From troubleshooting the problem to the actual roof repair being completed was about 24 hours total. Very happy with the results.
Donna Harmon
business
Centreville, VA
October 15, 2009
0.3