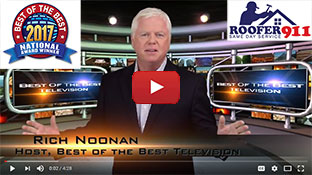 We Proudly Accept
Testimonial
What People Say About Us
I was very pleased with Roofer911, and I would highly recommend them to anyone with roofing concerns. Roofer911 was prompt in answering my phone call (on the weekend) and was out the next day to determine the origin(s) of our water damage. The infrared technology was fast and reliable in detecting exactly where the leaks were coming from. The roof was repaired promptly, and I am happy to say that our house is once again leak free! The roofers left behind no mess, and Roofer911 called the next day to make sure that everything was taken care of to my satisfaction. They also recommended great and affordable general contractors to help with our extensive indoor repairs. My husband and I were thrilled with our Roofer911 experience.
Angie K.
business
Leesburg, VA
November 11, 2010
0.3
SUPERIOR WORKMANSHIP AND GUARANTEED SATISFACTION!
Roof Repair, Roof Replacement Specialist
Call the Professionals with 40 Years Experience!
Replacing your roof is easily one of the largest investments you make in your home after buying it. We here at Roofer911 know what a large decision this is and guarantee that if you trust us to replace your roof, you will be 100% satisfied.
Continue
Roofer911 can provide you with same day roof repairs, ensuring you get the satisfaction in knowing that your home or business will be well protected from future water damages. So if you are in need of serious repairs or you're just want to change the look of your existing roof, give Roofer911 a call at (703) 475-2446 for a free quote...
Continue
A leak caused by the roof, siding, gutters, windows etc cansometimes be difficult to detect, but even the smallest leak can cause damage to a home or business. It is vital that any leaks be detected and repaired as soon as possible before mold or other costly damages occur. That is why Roofer911 utilizes infrared thermal imaging during our comprehensive Virginia, Va detection services...
Continue
At Roofer911 we take great pride in making sure that your gutters are installed correctly the very first time which means screwing into the rafters to prevent future sagging, sealed to prevent leaking and most importantly, pitch properly to ensure a positive water-flow to the drain. Call today for your free no obligated estimate...
Continue
Sometimes, roofing leaks are not the cause of inside water damages; it's a siding leak that's the culprit. From vinyl siding to cedar siding, if your siding has loose, cracked, missing or damaged pieces, it can be a potential leak hazard. Even when regular rains don't make it leak in your home, strong storms and high winds can cause leaks behind damaged siding materials...
Continue
Insulation that is wet or otherwise damaged will not perform as it was intended. In fact, wet insulation is worse than no insulation and can also cause black mold. Missing insulation is a far more common problem than most people think...
Continue
Whether you need a roofng contractor in Northern Virginia, Fairfax County, Loudoun County, Prince William or Fauquier County, getting the most out of your roofng repair starts with hiring an experienced roofng company for the job! While some roofng companies might be able to repair roofs cheaply, they might not have the experience to repair correctly to insure a permanent fix! When you're looking for a roofng contractor, be sure to hire one who has plenty of experience with projects similar to yours! Roofer911 has over 38 years of roofng experience; so we've seen it all. Call Roofer911 today at (703) 475-2446 and one of our highly trained crew members will ensure your roofng system gets the proper service and repairs so that you'll never have to worry about your leaky roof or siding again.
At roofer911 we are very experienced with all types of insurance claims that pertain to bad weather such as damage from hail, rain, snow, and wind. We specialize with getting you're job completed as quickly as possible! That's our specialty! Call today for your free estimate prepared on site, you'll be very pleased you did.
When weather conditions prevent roofers from repairing damages right away; emergency roof tarps can prevent further water damages until our team of qualified roofers can repair the damages. Our highly skilled roofers service all of Northern Virginia and cover both Loudoun and Prince William Counties so we can install an emergency tarp within 24 hours on any 1-3 story residential or commercial structures.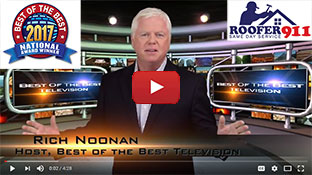 We Proudly Accept
Testimonial
What People Say About Us
Roofer911 is absolutely top notch. I am always a little apprehensive working with contractors but Steve made me feel at ease. Roofer911 is extremely professional, knowledgeable and these guys actually care about the product they are delivering to their customer. These guys are great and I would absolutely recommend them to my friends and family.
Scott Madden
business
Ashburn, VA
March 1, 2011
0.3