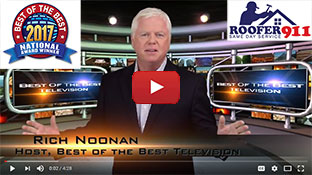 We Proudly Accept
Testimonial
What People Say About Us
I was very pleased with the quick and reliable service. All work was explained and performed to expectations.
Albert Monica
business
Clifton, VA
April 13, 2010
0.3
Roof Repair Faquier County, VA
SUPERIOR WORKMANSHIP AND GUARANTEED SATISFACTION!
Why does my Roof Leak only when it Snows?
Winter weather roof leaks can be a serious problem if allowed to continue without roof repairs right away. When you're home or roof leaks due to snow on the roof, it might involve more than just a basic roof repair. When snow

accumulates on your roof and causes a roof leak, it may involve one or all of the following symptoms and repair methods. If your homes roof is leaking, but only when it snows; don't wait for problems to get worse. Call Roofer911 today at (703) 475-2446 or send us an email at Roofer911@gmail.com and we'll send a qualified roofer to check your roof for damages and disrepairs. Call today for a no cost, no obligation inspection and estimate and you'll see why we are Fauquier County's premier roofing company.
If your roof leaks only when heavy snow accumulates on your roof; don't hesitate before problems compound into irreplaceable damages and high cost roof repairs. Call a licensed and insured roofer to have your roof inspected for leaks right away.
• Ice Dams - When snow sits on your roof, it creates an insulative barrier that helps to trap heat in your attic. While it may seem like a good idea to get the extra heat for your home, in fact, it's the worst thing that could happen. When interior attic temperatures don't coincide with outdoor temperatures, heat can build up under your roof. This causes shingles to warm up and melt the snow. As the melted snow travels back down the roof line, it refreezes, causing an ice dam. When ice causes water to become dammed and prevents it from draining off of the roof, this can cause water to travel under shingles and into your home. Preventing ice dams from forming starts with the right attic ventilation. If your attic ventilation is poor and causes ice to form on your roof, don't wait before it's too late. Call Roofer911 today at (703) 475-2446 and we will send a qualified roofer to your home for a free inspection of your attic ventilation system.

• Storm Damages - Many times, storm damages are what has caused the roof leak to begin with. Storm damages from high winds, heavy rains and piles of snow all serve to cause damages to your roofing system. Plumbing and ventilation penetrations, skylights, chimneys and flashing are all areas that can easily be damaged when heavy storms roll into Fauquier County, VA. Roofer911 recommends you have your roof inspected twice a year before heavy snows and rains occur. Call Roofer911 today at (703) 475-2446 and we will send an experienced roofer to inspect your roof for storm damages before they have a chance to turn into something worse.

• Faulty Gutters - When gutters are installed at the wrong slope, they can make water travel into undesirable locations in your home. Gutters that are also clogged with debris can be leaks waiting to happen. Inspecting your gutter system for damages or disrepairs should be done before winter sets in to prevent roof leaks. Check your gutters for signs of damages by looking for signs of stains, discolorations or rust as these are all sure signs your gutters need repairs. Mold and mildew growth can also mean that bigger problems are at hand and an immediate roof repair is in order. If you suspect your gutters may be the cause of your snowy weather roof leak; don't' wait—call us at (703) 475-2446 or send us an email at Roofer911@gmail.com and we'll be happy to send one of our roofers to your home for a no obligation inspection and free estimate today.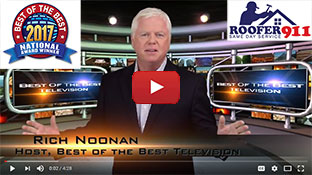 We Proudly Accept
Testimonial
What People Say About Us
We had leaks in two different locations of the house. After having several reputable roofers out to try and find the source of the leaks, we ended up with a different guess from each one as to what was causing the leaks. Not wanting to throw money at a guess that may not be right, I found roofer911 and gave them a call. Steven used his to leak detection equipment to pinpoint the source of the leaks and nailed it. His crew was out doing the repairs within 48 hours. When they were done you would have never known they were there. The yard was clean and the shingles were a perfect match. Just a few days later we received 2.5 inches of hard blowing rain overnight and everything was dry in the house.
Tim Riley
business
Ashburn, VA
May 16, 2014
0.3