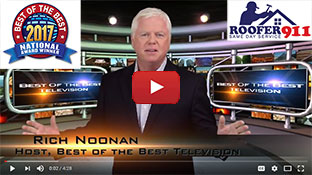 Loudoun County Roof Repair
SUPERIOR WORKMANSHIP AND GUARANTEED SATISFACTION!
Other Services We Perform
Our infrared camera detects a roof leak due to melting snow and wind driven rains because of an improperly installed ridge vent.

Vent Pipe Leak: The old deteriorated bathroom vent pipe flange was removed and replaced to prevent further leakage.

Gutter Repair: When gutters are not pitched properly water can settle inside your exterior walls and cause mold to develop.

Seeing blown off roof shingles on high townhomes in Loudoun County is a very common sight and is most often due to improper fastening procedures.

Siding Repair: Missing siding panels can cause water to leak inside your home and your adjoing neighbors, if not repaired immediately.
Your roof devotes itself to the herculean task of deflecting the impact from the elements nature throws at your home. Planning your roof repairs is imperative. Just ask the home owners of Loudoun County - they can tell you! We receive more rain than the rest of the country, with the heat and cold that are more extreme. On the average, it is more humid here than the rest of the nation.

Loudoun County has its fair share of harsh weather too. Roofs in this part of the world are worth their weight in gold. They must be tough and durable to withstand the rain, heat, wind, and all that goes with it. Think about it. Winds drive rain back up behind existing shingles and tile. The moisture weakens the roof underneath the roofing materials as they rot and wear away. Snow and ice form on the roof in colder weather. This puts a lot of weight on its back. Snows melt and refreeze on roofs forming ice dams which then forces the melt water back up under the shingles. Presto – you have a roof leak in the middle of winter!

Hail is bulleted down from the heavens perforating the surface of your roof. Driving winds can tear off chunks of roofing materials easily. In the summer, beautiful sunny days cause the adhesives in your roofing materials to deteriorate, shrink and crack. Your roof becomes an open door for water damage every time it rains. Regardless what kind of roof and the quality of materials used, your roof will need repairs. It is inevitable.

Experienced Contractors Have the Answers

Troubles with the roof raise certain questions. "Why does my roof leak when it's not raining?" As a home owner you may not be aware that when a roof leaks, water enters where it may not be visible to the untrained eye. It will always travel the easiest route, along seams and down studs in the wall. When it finally shows up where you can see it, a great deal of damage has already been done behind the scenes.

There can be a build up of moisture inside the attic and walls which causes drainage even after the rain is done. Our job is to trace the water back to its entry point and put a stop to it for good.

Finding a leak is like searching for a needle in a haystack. Anywhere you have a seam where sections of the roof meet, chimneys, pipes, vents, and other penetrations through the roof, you have a weak spot. As the roofing compound that seals the metal flashing over the seams gets older, it develops cracks and allows moisture through.

"Is this a roof repair I can do myself?" You might be an expert do-it-yourself kind of home owner, but with a roof you could run into problems you just can't handle. The truth is, an experienced and certified roof repair contractor has the expertise to protect your home and your budget most effectively.

How do I begin?

Start by asking your Loudon County roof repair specialist to inspect your roof for problems. Your home is a major investment. Our determination is to extend the life of your roof for as many years as possible and protect your family from hazardous side effects such as toxic black mold. Water damage is a serious issue which can literally destroy a house. In the long run we will save money for you by preventing an untimely roof replacement with a few small roof repairs. We'll even increase the energy efficiency of your home and improve its overall market value.
For information about Building Codes and Permits please vist: http://www.loudoun.gov
Our Complete Range of Roofing Services in Loudoun County, VA include: