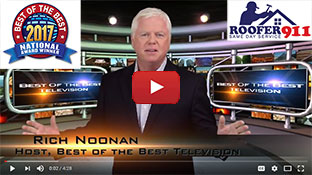 Prince William County Roof Repair
SUPERIOR WORKMANSHIP AND GUARANTEED SATISFACTION!
Common Services In
Prince William County
Replace missing roof shingles due to strong winds. Also, re-fasten all surrounding loose roof shingles and seal to prevent future blow-off.
All roof replacements are done according to manufacturer specifications. Satisfaction guaranteed!
Infrared moisture detection to locate active or hidden roof leaks not visble to the naked eye.
Replaced deteriorated vent pipe flange that was causing a leak inside this home.
Remove and replace wind damaged aluminum ridge vent. New ridge vent will be attached to the rafters underneath which will withstand hurricane force winds.
In Prince William County, our roof repair contractors are the best at devising a plan to minimize the cost of maintaining an efficient roof. We are keenly aware of the challenges you must confront as a home owner.

Let's face it; nature can be brutal in her fury. Our homes must be able to handle any type of weather, from extreme heat to extreme cold. It must be able to withstand dry, wet or windy conditions. Your roof takes on the burden of driving rains, gutters that overflow, nesting critters, fast moving projectiles such as hail or wind driven debris, UV rays from the sun and deterioration from all of these factors. Nature can be very demanding. This is why it is critical to manage roof repairs in an efficient and timely way. If you don't, the water damage to your home gets very costly.

The Gaps that Ruin a Roof

Prince William County receives almost 40 inches of rainfall every year. Your roof is designed to repel rain and melting snow, but it acts like a sponge if it has leaks.

Sunlight is necessary to life, but the UV rays it contains are hard on your roof. They cause evaporation of the oils in your shingles and sealants. The result is brittle roofing materials that shrink and crack, leaving hairline gaps where water can enter. In our part of the country where we experience temperature extremes, the constant contraction and expansion continues to loosen those materials and widen the gaps.

Any point on your roof where one section meets another to form a joint, or an object such as a vent pipe, skylight or chimney protrudes through it, you have a risky situation. Water can be as gentle as sunlight, but it has an abrasive quality as tough as UV rays. Anything it contacts that is not 100% waterproof eventually deteriorates and wears away. In a house it shows up as rot and mold. It affects fibreglass insulation, reducing the R-value and making it a breeding ground for toxic black mold. Tiny gaps in your roof are not innocent – they lead to very expensive repairs if they are neglected.

Why Get Your Roof Inspected?

It's normal to be concerned that a contractor will find something needing to be fixed if you invite him over to inspect your roof. One of the first questions on every home owner's mind is, "How much will this cost?" The real question is "how much will it cost if your roof is neglected?" Imagine what happens when gallons of water leak into your attic, ceilings and walls. Ouch! Catch the potential problems early, and they will not become big problems. A small roof leak is substantially less expensive and easier to repair than a large one. If not caught early on, you will be forced to deal with serious water damage restoration.

Your roofing contractor will assess the condition of the roof, looking for current as well as potential problems. Using state of the art technology, he can predict future damage up to 12 months down the road. He can determine the precise location of the leaks. You'll find out if poor attic ventilation is creating ice dams, leading to a leaky roof in the middle of winter.

By the time you notice a leak inside your home, extensive damage has already been done. It is a good idea for the homeowner to call an experienced Prince William County Roofing Repair contractor to do an inspection. In the long run, it will save money on your home maintenance costs and help to lower your energy bills.