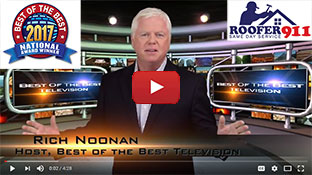 We Proudly Accept
Testimonial
What People Say About Us
The work team arrived, basically, on time. They seemed to work hard and smart and completed the repairs quickly and efficiently. Not being a roofing expert, I'll need to see how the repairs hold up over time but they seemed to know what they were doing. They communicated well...fixed a couple of little things I noticed and explained some of their work. They also observed and reported to me that caulking was not applied to a window we had installed this week...something I would have never noticed until it started leaking! They were a pleasure to work with on this project! Everyone else needed several days to simply give me an estimate. they did the estimate almost immediately and were ready to work as soon as I agreed to the estimate!
Tom Jones
business
Fairfax, VA
December 31, 2010
0.3
ROOFING BLOGS DIRECTORY
If you are a roofing contractor, home remodeler or a do-it-yourselfer who is about to begin a roofing project, the list of blogs on our site can be of great benefit to you. Here at Roofer911, you'll find hundreds of blogs about roofing on such topics as: roof installation, ventilation, ice dam, solar energy, mold, roof cleaning and much more. Whether you are a novice or an seasoned professional in the roofing trade, reading about other individual's experiences can prove as useful guidelines.
Should Dryer Vent Pipe Be insulated?
Dryer vent pipe takes the warm moist air from your dryer and puts it outside the house so it won't lead to damage that could cause problems.
Size of Skylight? Why Should I Care?
Actually, when it comes to choosing the right size of skylight for your home, you need to care plenty. Different sizes and styles of skylights do different jobs.
Sky Roofing
Skylight Leak On A Low Pitched Roof - Arlington Virginia
Slate Roof Repair
Imagine having a roof lasting for 2 centuries - a little slate roof repair here and there does not seem like a huge expense with of roof of this quality
Solar Roof Fans
Solar roof fans are an excellent way to reduce your energy and your roof repair bills. Homeowners are increasingly using solar solutions because they are cost effective.
Solar Tubes Let the Sun Shine In
Installing solar tubes brings bright outdoor sunlight in, helps reduce reliance on electricity, and makes people healthy and happy.
Some Ice Dam Products Avoid Solving the Problem
Effective ice dam products are various systems to provide heat to the eaves and gutters, such as heat cables or tape for the do-it-yourselfer
Source Of Ridge Vent Leak in Burke, VA
Source Of Roof Flashing Leaks in Sterling VA
Source of Roof Leaks and Roof Repair in Reston VA
Source Of Roof Leaks In Falls Church VA
Spanish or Mexican Tiles Go Perfectly with Adobe Style Homes
When you get an adobe, mission, or Spanish style home, putting Spanish or Mexican tiles on the roof is the crowning touch.
Stop Ceiling Drywall Repair: Fix Your Roof
Ceiling drywall repair is a matter for the drywall and painting experts, right? Ask any homeowner after a wet summer or a really cold and snowy winter.
Storm Damage Repairs
Storm damage is one of the biggest and most costly sources of roof leaks and roof repair issues that every homeowner faces.
Strange Window Leak
Can anyone explain why my window is leaking like this?
Stress Relief with Emergency Roof Repair
Emergency roof repair can bring relief to an otherwise stressful event.
Support Your Roof Trusses
Roof trusses are the rigid and stable triangular supports that hold up your roof and distribute the weight of that roof away from the walls of your home.
Tar and Gravel Roof Repair
Tar and gravel roof repair is a common on flat or build-up roofed structures. The roof covering is a layered combination of asphalt and roof membrane, covered with small gravel.
Tar Paper
Underneath your roof's shingles is tar paper, the last line of defense against moisture.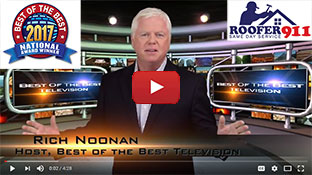 We Proudly Accept
Testimonial
What People Say About Us
I called Roofer911 about a leak in the ceiling of one of my bedrooms and Steve, who is the owner, came out early the next morning to access the problem. He sent me an estimate via email in 30 minutes and had his men get the materials and come out to repair the damage that morning. I liked the fact that he told me if they found any additional issues while doing the roof work, they would fix it for gratuis. Steve and his workers were very courteous and professional. The only negative I have is that his warranty is only for six months and I think it should be for 12.
Arlene Burstrom
business
Arlington, VA
September 1, 2013
0.3