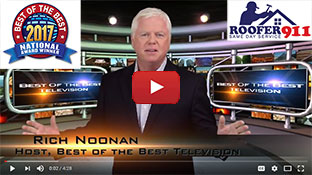 We Proudly Accept
Testimonial
What People Say About Us
I called Sunday afternoon, had an estimate by Monday morning, and the work was completed by Monday afternoon. They were quick, curtious, and made sure that I understood what needed to be done and why. I would definitely use them again ane recommend them to friends.
Allison S.
business
Alexandria, VA
October 20, 2009
0.3

Vinyl Siding Repair VA - Roofer911.com
Why This Vinyl Siding Blew Off And How We Fix
By: Steven Briesemeister
People have been using vinyl siding on their homes since the mid 20th century. It offers the benefit of low maintenance compared to wood siding at an affordable price, with complete resistance to rot and termites. Vinyl siding is not resistant to cracking and breaking, however, which can result in a less attractive exterior to your home and possible damage if water gets underneath. If you are in need of vinyl siding repair you have two options. You can go out and buy all the tools, get all the materials and learn how to do it yourself; or you can trust an experienced roofing contractor who is knowledgeable about vinyl siding repair to do it for you.
If you decide to go the do-it-yourself vinyl siding repair route, there are many tools that you will need to do the job right. You will need to find siding that matches perfectly with the material already on your home, first of all. You will also need to purchase a vinyl siding remover, which is also known as a zipper. This inexpensive hand tool is almost always necessary for vinyl siding repair because it loosens one piece of siding from the next and removes the damaged panel that is going to be replaced. You will also need tin snips; another relatively affordable and easy to find tool. A hand saw or utility knife would also suffice. Polyurethane caulking and aluminum box nails are also necessary to reattach the new piece of siding.
While a professional contractor or someone who has a great deal of experience in home improvement projects can complete the vinyl siding repair fairly quickly and without much trouble, a novice homeowner might not have such an easy time. There is also no telling whether the vinyl siding repair project will run into some complications. If things don't go as smoothly as planned it could turn into much more than replacing a single piece of damaged siding.
Unless you are an expert home repair person, it would be better to contact a professional contractor, like Roofer911, that is experienced in vinyl siding repair. We have more than 40 years of experience in this field, and are known for our quality of service in roof repair and replacement. We bring that same high standard to all types of vinyl siding repair, from the smallest jobs to the largest of projects. When you call Roofer911, you can rest assured that the job will be done right in a reasonable amount of time.
It's true that some vinyl siding repair jobs are pretty simple to do, but when you call a professional to do the job you know you're getting the best result possible. Since the exterior of your home affects its value, it's important to know that all work done on your home is of the highest quality. Roofer911 will make sure your home looks great and your siding will stand the test of time.
NOTE: Sometimes trying to find an exact match for a missing vinyl siding panel can be quite difficult; please visit http://www.4specs.com for the correct manufacturer.
Browse other blogs by keywords:
0 Responses to "Vinyl Siding Repair VA - Roofer911.com"
Speak Your Mind!
Tell us what you're thinking...
and oh, if you want a pic to show with your comment, go get a gravatar!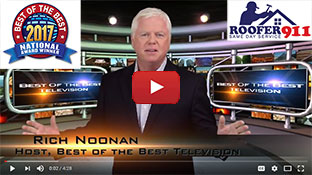 We Proudly Accept
Testimonial
What People Say About Us
We've had a few long rains since you fixed our roof and I just want to say that as you said it's fixed! Thank you so much for your quick service and roof repair. You came out the day I called and came out to fix it as soon as weather permitted which ended up being a day earlier than we thought. I really appreciate the great service. I'm thrilled that it is finally fixed. I just wish you did drywall work as well :). I will definately refer anyone I know who is having any roofing issues to you. Thanks again.
Tracy Sortzi
business
Manassas, VA
January 26, 2009
0.3