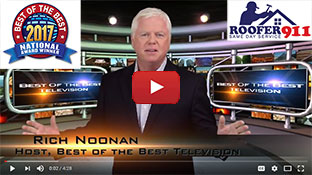 We Proudly Accept
Testimonial
What People Say About Us
A great company to deal with. Steven is very knowledgeable and provided a detailed estimate for the repair. The Infrared Moisture detector is neat, it allows me to see the water damage from the leaks. The crew that came to do the repairs were very professional and courteous. Repair was completed in an hour and no mess left behind., Just need rain to put it to the test.. I will recommend Steven and Roofer911 to friends and neighbors.
Kim Kringen
business
Alexanfria, VA
April 17, 2013
0.3
Same Day Service for Gutter Repair and Installation
Water Trapped Inside The Wall From An Overflowing Gutter
By: Steven Briesemeister
If leaky gutters aren't properly wicking water away from your homes siding, windows, walls and foundation, then your home could be experiencing leak issues. Faulty gutter systems can be a sure bet that water leaks are going to happen—or already have. Roofer911 recommends that you have your gutter system inspected twice a year before heavy winter snows and wet summer conditions can have a chance to take their toll on your roof and gutter systems. Call Roofer911 at (703) 475-2446 or send us an email at Roofer911@gmail.com and we'll send a quilified roofing specialist to inspect your gutters free of charge and provide you with a no obligation estimate of any damages we find.
Gutter Inspection

Your gutter inspection should involve many different areas of inspection and detail each area of the gutter systems to ensure it is in working order. When checking your gutters for disrepairs of damages, you will need to check around:
• Drip Edges/Eaves: These areas of the gutter system are the metal flashing that is at the edge of the roof. Typically, it holds the fascia in place to prevent water from entering through the subfascia and into the soffits, walls and ceilings. Many gutter systems attach under or against this metal flashing. When inspecting your gutter system for leaks or problems, be sure to check this often neglected area for signs of trouble.

• Seams: Even if you have seamless gutters, they still have seams where corners meet and downspouts connect. Check these areas for signs of water damage to prevent roof, wall and foundational leaks around your home.

• Downspouts - Clogged downspouts can be serious problems when heavy rains or storms visit your home. Checking for clogged downspouts can be tough when many bends or angles are in the spout channel. Be wary of placing any sticks or wires into angled downspouts as this can easily cause damages. You may need to remove sections of the downspout to inspect hard to reach spots on your gutter system.

• Fasteners - The connections that hold your gutter system to your fascia can be either screwed or nailed in place. Checking these fasteners for signs of corrosion and replacing any damaged fasteners can help prevent costly gutter repairs and replacement. Also check for misaligned fasteners as these can miss the subfascia entirely and penetrate through the roofing membrane causing a roof leak.

Gutter Problems

When you're inspecting these areas for signs of damages, it's a good idea to keep an eye out for a few specific gutter damage symptoms. If you see any of the following signs of gutter damages, be sure to call Roofer911 at (703) 475-2446 or send us an email at Roofer911@gmail.com and we'll send a qualified roofer to inspect your gutters for damages and provide you with a detailed, no obligation estimate of your gutter repairs. Look for these signs to prevent future gutter damages:
• Staining - Discolorations and stains on siding, eaves and soffits can be a sure sign that your gutters are leaking and need to be inspected for further damages. Stains can also be a sign that roofing problems are abound, so be sure to have any odd stains or other discolorations checked right away before gutter problems get out of hand. If you find any signs of gutter damages on your home or business—don't hesitate to call today at (703) 475-2446 for a free, no obligation inspection and estimate.

• Sagging - Sagging gutters can be more than just an eyesore. Sags can cause water to splash out prematurely from gutters and onto walls and foundation, causing your home to leak. Sagging gutters can also be signs that the fasteners that are holding them in place are damaged and have broken free from the fascia. Sagging gutter may also be signs of decay in the wood surfaces behind the fascia.

• Mold - Mildew and mold stains are a sure signal that something is wrong with your gutters. Water that has been allowed to sit in gutters can create mold and mildew within 48 hours. If mold is allowed accumulate around gutters unabated, it can easily penetrate into the home. In some cases, black mold can form, causing serious health concerns and expensive repairs. If you spot any signs of mold or mildew around gutters and downspouts; don't wait before problems spiral out of control. Call Roofer911 today at (703) 475-2446 for a complete inspection of your mold concerns.

• Damp Basement - If you have uncontrollable water intrusion through basement walls, you may find that your gutter system isn't properly draining water away from the foundation and basement walls. When correct gutter drainage, a sump pump and interior basement wall waterproofing works together, you can be sure your basement space will be as dry as a desert. If you believe your gutters are causing your basement to leak, don't wait before bigger problems have chance to happen. Call Roofer911 today at (703) 475-2446 or send us an email at Roofer911@gmail.com and we'll inspect your gutters for any signs of damage.
VERY IMPORTANT: For more information about hidden leaks and mold caused by overflowing gutters.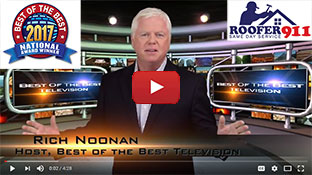 We Proudly Accept
Testimonial
What People Say About Us
Steve and his roofers did an excellent job. He was quick to respond to my call, and right from the initial meeting did a thorough job in assessing the required repairs. In addition to his nearly 40 years of experience with roofing, his infrared detection device is able assist in pinpointing exactly where the leaks originate. The guaranteed same day service is not an empty promise. His staff were onsite and completed the repairs by sundown and even had lights ready to do their work in the dark if necessary. To give you an example of the thoroughness, Steve brings a camera with a zoom lens that allows him to take before and (if requested after) shots of exactly what needs repair. Once you see these shots, the work becomes glaringly obvious and the after shots show the quality work that they've completed when placed side-by-side. Talk about resting easier, this should do it for you. It sure did convince my insurance adjusters and make them happy! They took one look at these and the detailed description of the work completed and had nothing but good things to say about the service. Basically they told me-- they never get this kind of excellent documentation from roofers and that we were fortunate to have gotten this company to perform our repairs. A+
Tim Lank
business
Springfield, VA
October 31, 2011
0.3