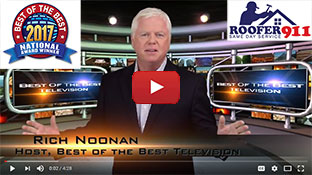 We Proudly Accept
Testimonial
What People Say About Us
Can't say enough great things about Steve Briesemeister and his crew! Everything about Roofer 911 is professional and courteous. The work is excellent, and affordable - and you can tell from watching and talking with them that they really take pride in and enjoy what they do! I would highly recommend Roofer 911 to anyone with roofing problems. Give Steve a call. You'll be so glad you did. I am!!
Fran Troup
business
Manassas, VA
September 8, 2008
0.3

Same Day Service with Roofer 911
Fix Your Roof Leak Before Mold Has A Chance To Develop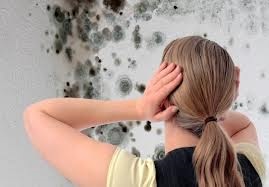 Whether you have a small shingle leak or your entire roof was blown away in a tornado, hiring a roofing company for a roof repair or roof replacement as soon as possible is extremely important. It's no secret that when water is allowed to enter your Northern Virginia home or business, more expensive damages are going to quickly add up. When water has a chance to enter the dark recesses of your walls, attic and ceilings, mold, mildew and fungus will quickly be
gin to grow. Literally overnight, serious infestations of mold and fungus can occur that not only damages your structural components, but they can also severely affect you as well. Black mold can quickly form once water has been allowed to sit inside of your dark and warm attic and walls. These dangerous growths can quickly spread inside the home, ensuring that whoever works or lives in the structure will incur serious health problems. Black mold growth is not only dangerous; it can be very costly to remove once it has had a chance to become established in your structure. That's why it's so important to make roofing repairs as quickly as possible before more serious problems have a chance to occur.

Emergency Roof Tarp Services Prevents Further Damages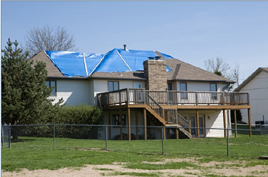 Rain or shine—you can bet that once roofing damages have taken place, they are only going to get worse when water enters the mix. That's why it's critical to keep the elements out of your structure as soon as possible. Emergency tarp services will temporarily prevent future roofing problems and keep the inside of your structure dry and free from troubles. Whether it's raining or not, water can enter the structure through moist, humid air and enter your attic space. A temporary tarp service ensures that your roofing problems are kept at bay until roof repairs are performed. Roofer911.com knows how bad a roof leak can get over time. That's why we offer emergency tarp services when roofing leaks need to be stopped right away. No matter what the weather conditions, call Roofer911.com now at (703)475-2446 and we'll send our team of emergency tarp installers to stop water from entering your structure until the right roof repairs or replacement procedures can be made.

Finding a Quality Roofer during an Emergency
A roof leak can be bad enough without the additional effects of a poor installation. But finding a quality roofing contractor on the fly can be tough—unless you know what to look for. Don't just choose a roofing company out of the phonebook. It takes a little research and legwork before you can ensure your roofers have what it takes to perform the work as quickly as possible and still do a great job. Look for the following qualities in your future roofing company and you can be sure that you'll get the best roofer in your area.
• Licensing- Always hire a roofing company who carries the proper roofing license for your area. A quick call to the local building department can ensure that your roofers have the necessary license to get your roof repair job done right.
• Insurance- Workers compensation, liability and builders risk insurance all work to benefit the homeowner and are a must for any roofers who will perform work on your roof. Be sure your roofers have up to date insurance documents before receiving nay estimates.
• Warranties- Whether it's a roof repair or a total roof replacement, hiring a roofer who offers warranties on materials and labor is a sure bet that they will perform a quality installation.
• Speedy Services- Roofing repairs need to be handled as quickly as possible. If your roofers can't provide you with repairs within 24 hours, then you may need to look elsewhere to find the best service.
• Claims Adjusters- When most emergency roof repairs are performed, insurance adjusters and agents need to be contacted to pay for the repairs. Hire a roofing contractor who has plenty of experience working with insurance agents and adjusters on a regular basis and your roof repair will run as smoothly as possible.

Same Day Services Means Less Problems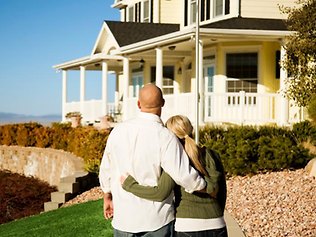 No matter who you hire for your roof repair or roof replacement project, make sure that they offer same day services. Many roofing companies claim they offer emergency roofing services. If they don't make the repairs within 24 hours; then they aren't an emergency roofing service. Roof repairs need to be made as soon as possible to ensure black mold and other nasty growths don't have a chance to form. Be sure that your roofers offer same day services to keep roofing troubles at bay. Here at Roofer911.com, we perform inspections, infrared moisture detection, repairs and replacements all in the same day—guaranteed. Call us today at (703)475-2446 or fill out the form on your screen and we'll send our team of expert roofers to your Northern Virginia home or business right away for a free estimate and no obligation assessment of your roofing damages.
Browse other blogs by keywords:
Black Mold Roof Inspection Roof Repair
0 Responses to "Same Day Service with Roofer 911"
Speak Your Mind!
Tell us what you're thinking...
and oh, if you want a pic to show with your comment, go get a gravatar!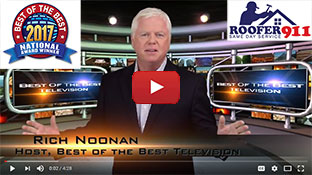 We Proudly Accept
Testimonial
What People Say About Us
"Steve was wonderful, very professional and great to work with. He contacted us within minutes of our inquiry and completed the job the same day - New Years Day! He went to the house, investigated, provided us pictures and details of what needed to be repaired. This was going above and beyond as we do not live in the house currently (it's a rental) but live overseas! Definitely recommend for roof repair. He knows his stuff!"
Art Adam
business
Vienna, VA
January 2, 2009
0.3