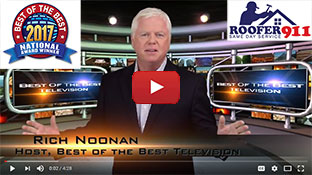 We Proudly Accept
Testimonial
What People Say About Us
Roofer911 set a new standard for all service professionals. After my online submission, my phone rang within minutes with Roofer911 on the line to discuss my roof problem. Within an hour they were on site for an evaluation, and even noted another problem I had not noticed. I was presented with a quote electronically, with a follow up call to review the quote and had roof repair folks fixing my roof the same day. Professional, courteous, informative, easy and fast. Service was top notch and pricing was very reasonable. If I could rate six stars I would!!!!
Pamela Combs
business
Vienna, VA
June 22, 2011
0.3
Roll Roofing Contractors
Self-Stick Aluminum Roll Roofing
THE BETTER WAY TO FINISH LOW SLOPE ROOFS
and make quick waterproof repairs
Aluminum Surface
No Torches or Mops
No Adhesives
No Expensive Tools
No Coating
Peel & Seal is a self-stick aluminum roll roofing, which is ideal for roofing a mobile home. This product is available in either reflective aluminum, white or grey coated top surface and features a 10 year limited warranty. Roofing a mobile home is very important, especially when you consider the potential for leaks. Due to some flat roof designs, leaks can create a real problem. Peel & Seal may help to eliminate those leaks because of it's waterproofing compound and adhesive strength.
Because of their design, mobile homes are especially warm in the summer months because they attract heat. Peel & Seal features a reflective aluminum surface, which will coincide perfectly with the design of a mobile home. The sheet features multiple laminations of specialized aluminum foil, high density polymer films and a thick layer of rubberized asphalt waterproofing compound. The aluminum foil reflects the sun to the lower rooftop temperature, which reduces energy costs by directing the sun away. The Peel & Seal sheet protects against leaks because the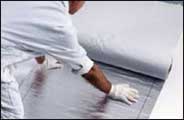 rubberized asphalt seals tightly at the overlaps and most punctures. Roofing a mobile home with Peel & Seal will provide a long-lasting waterproof barrier that requires no coating.
Rubberized asphalt will not crack or dry, which is one advantage to Peel & Seal. In addition, it sticks to most surfaces for easy installation and eliminate the movement of water under the membrane. With Peel & Seal, application is instant by simply peeling off the release paper and applying to the roof's surface. Peel & Seal is fast and simple to install, which eliminates the need for large crews and saves you money.
Peel & Seal is available in various widths from 4 inches to 36 inches. The narrow width rolls can be used for sealing, patching and repairing such as sealing seams on metal roofs and lining leaking gutters.
The 36 inch membrane is designed for full roof applications.

In the roof installation process, Peel and Seal tape is stuck across the panel joints to keep out the rain if the roof covering is lost. The Peel & Seal tape seals the joints between the sheathing panels so rain won't run between them and into the house.

Peel & Seal reflects heat to keep interiors cool and to reduce utility bills. In fact, aluminum surfaced Peel & Seal has qualified for the U.S. EPA Energy Star program for roofs and carries a 10 year manufacturer's warranty.

MFM Tape
Eliminates Leaks - Multiple layers of protection seal out water. Rubberized asphalt won't crack or dry.
Sticks to Most Surfaces - Peel & Seal sticks to roof deck for ease of application and to eliminate movement of water under the membrane.
No Coating Necessary - with Peel and Seal roofing you simply peel off the release paper, apply to any prepared surface...and the job is done!
Easy & Fast to Install - Peel & Seal eliminates the need or big crews, hot kettles, torches, adhesives, fasteners, etc. Following the simple instructions anyone can install Peel & Seal using only scissors.
Are you interested in learning more about the different types of cool roofing systems and there benefits? I highly recommend you view these training videos which may be viewed at http://www.energyvideos.com/bldvid.php?P=CA&A=6&S=non_buil