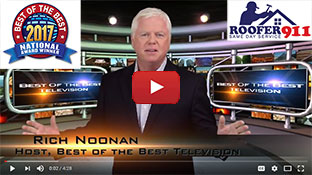 We Proudly Accept
Testimonial
What People Say About Us
Quick response with same day service. I highly recommend!
Vijay Raj
business
Fairfax, VA
February 18, 2013
0.3
GAF Liberty

Protect Your Home From Fire And Damage With A Quality
Membrane Roofing System
Roofer911 installs GAF Liberty a quality membrane roofing system which provides a long-lasting protection for the low-slope areas of your home (e.g., porches, garages, car ports, sun rooms, etc.) without the danger or hassles associated with conventional roofing products. Liberty™ systems are safer because they are applied without torches, open flames, hot asphalt, or messy solvent-based adhesives. Unlike traditional roofing systems, Roofer911 installs GAF Liberty easily and quickly and without the hassles of bulky equipment or unpleasant odors.
The Best Choice... For any low-slope roofing applications
Proven Technology... Based on the same technology used in GAF's commercial roofing systems — proven in the field for decades!
Great Guarantee... Free ltd. warranty against material defects for up to 10 years
Extended Guarantee Available... Optional full system guarantee against manufacturing defects and workmanship errors available for up to 12 years—includes replacement materials, installation labor, and tear-off/ disposal (if necessary)
Peace Of Mind... Backed by GAF Materials Corporation, North America's largest roofing manufacturer
Available In Colors... Black, white, tan, or weathered wood
Specifications
Liberty Base Sheet
• Roll length - 66 ft (20.1 m)
• Roll width - 39.375 in (1.0 m)
• Roll thickness - 0.083 in (2.1 mm)
• Roll weight - 82 lbs (37.3 kg)
• Coverage per roll - 200 sq ft (18.6 sq m)
Liberty Cap Sheet
• Roll length - 33.3 ft (11.0 m)
• Roll width - 39.375 in (1.0 m)
• Roll thickness - 0.157 in (3.9 mm)
• Roll weight - 98 lbs (44.6 kg)
• Coverage per roll - 100 sq ft (9.3 sq m)