New And Improved For 2003!
"Designed For Homes Of Distinction"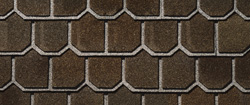 Country Mansion™ shingles offer an exceptionally distinctive and unique appearance—plus a lifetime ltd. warranty

Shingle Features
For Homeowners
Unique Design ... Artfully crafted shingle tabs give the roof a sophisticated look of elegance.
Distinctive Appearance ... Unique "complementary color frame" outlines the shingle to capture a natural slate or stone look, while the rich, subtle color palette simulates the hue of natural material
Safer ... Class A fire and wind rating from Underwriters Laboratories-the highest rating possible.
High Performance ... Custom specified, ultra-high performance Micro Weave® core provides better protection layer-for-layer
Stays In Place ... Dura Grip® adhesive seals each shingle tightly and reduces risk of shingle blow-off. Shingles confidently warranted to withstand winds up to 80 mph!
Peace Of Mind ... Lifetime ltd. transferable warranty with Smart Choice® Protection (non-prorated material and labor coverage for the first ten years)*
Perfect Finishing Touch ... Distinctive TIMBERTEX® Ridge Cap Shingles with Algae Eater™ protection lend the perfect finishing touch
For Professionals
Quicker Installation ... Large 17" x 40" size saves labor, allowing you to offer superior value and greater homeowner satisfaction.
More Referrals ... Unique and distinctive design that other homeowners will notice!
Less Chance Of Call-Backs ... When tested, shingles withstood winds up to 110 mph**
Greater Customer Satisfaction ... Algae Eater™ protects the beauty of these shingles from unsightly blue-green algae.
Shingle Specifications
Lifetime Ltd. Transferable Warranty
80 mph Ltd. Wind Warranty
Fiberglass Asphalt Shingle
Algae-Eater Protection
Class A Rating from UL
Passes UL 997 Wind Test
ASTM D3018 type 1
ASTM D3161 type 1
ASTM D3462*
Wisconsin Administrative Code
Dade County approved
for distinctive ridge cap shingles use matching Timbertex Ridge Cap Shingles with algae-eater protection.
Sample Colors