"Everlasting Beauty For The Sophisticated Owner"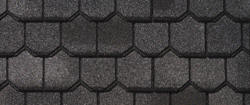 With a ltd. lifetime warranty that includes Smart Choice® protection for the first ten years, Country Estates™ shingles combine everlasting beauty with ultimate peace of mind

for HOMEOWNERS
Strikingly Bold Design ... Artfully sculpted shingle tabs combined with richer, refined outlines will give your home a truly sophisticated look
Incredible Appearance ... Subtle color palette simulates the hue of natural slate or stone materials
Natural Color Palette ... Revised color palette accentuates the natural beauty of Country Estates shingles Super-Heavyweight "PLUS" Construction... 425 lbs. per square for ultimate durability (in fact, each layer of Country Estates shingles is up to 60% thicker than each layer of other "premium" asphalt shingles)
High Performance ... Custom specified, ultra-high performance Micro Weave® core provides better protection layer-for-layer
Safer ... Class A fire and wind ratings from Underwriters Laboratories—the highest ratings possible
Algae-Eater™ Protection ... Protects the beauty of your roof from unsightly blue-green algae*
Stays In Place ... Double row of Dura Grip™ adhesive seals each shingle tightly and reduces the risk of shingle blow-off. Shingles confidently warranted to withstand winds up to 110 mph!*
Peace Of Mind ... Lifetime ltd. transferable warranty with Smart Choice® Protection for the first ten years (non-prorated material and installation coverage)*
Perfect Finishing Touch ... Distinctive TIMBERTEX® Ridge Cap Shingles with Algae Eater™ protection lend the perfect finishing touch
Available Colors ... Aged Oak, Brownstone, Cottage Red, Olde Pewter, and Weathered Green
for PROFESSIONALS
Quicker Installation ... Large, 17"x40" size saves labor, allowing you to offer superior value and greater homeowner satisfaction
More Referrals ... Unique and distinctive design that other homeowners will notice!
Less Chance Of Call-Backs ... When tested, shingle withstands winds up to 110 mph (under controlled laboratory conditions
Greater Customer Satisfaction ... Algae Eater™protects the beauty of these shingles from unsightly blue-green algae
*See ltd. warranty for complete coverage and restrictions.
Specifications for Country Estates

Super Heavyweight "PLUS" design, 17"x40" size
Lifetime Ltd. Transferable Warranty
110 mph Ltd. Wind Warranty
Fiberglass Asphalt Construction
Algae-Eater™ Protection
Class A rating from UL
Passes UL 997 110 mph Wind Test
CSA A123.5-M90 and CSA A123.5-98
ASTM D3018 Type 1
ASTM D3161 Type 1
ASTM D3462*
Dade County Approved
Meets Wisconsin Administrative Code
Approx. 48 Pieces/Square
Approx. 6 Bundles/Square
Approx. 192 Nails/Square • 7 1/2" Exposure

*This product is manufactured to meet or exceed ASTM D3462; values from subsequent testing may vary depending on storage conditions

For Distinctive Ridge Cap Shingles, use matching TIMBERTEX® Ridge Cap Shingles with Algae Eater™ protection.






17 " x 40"


Country Estates™ shingles are available nationwide.