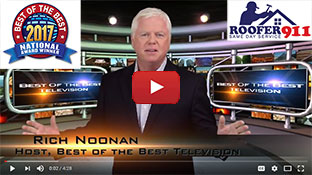 We Proudly Accept
Testimonial
What People Say About Us
Simply excellent company. From initial communication on the phone or e-mail to the same day visit to the computerized estimate/billing, Roofer911 is professional and outstanding. Steven, its owner, is always courteous, prompt and keeps his word. I have had two roofs and several leaky windows repaired by his crew and they have held out very well. There is simply no comparison to the other roofers I used in the past (ones who would make faulty repairs, take weeks to respond to customer service calls, etc.). I wish more contractors and those in the building trade were like him and his company.
James N.
business
Ashburn, VA
March 30, 2012
0.3

Vienna VA - Seamless Gutter Repair
Hi this is Steve, I'm Roofer 911.

I'm at a home in Vienna, Virginia and the home owner has a problem with their gutters. I don't know if you are going to see this, right over in here the gutters have taken a little bit of a dip.

When there is a really heavy rain the water's overflowing over the front of the gutter. Not only does the water overflow over the front, it's also going over the back. Water can settle right over here inside and sometimes that water can travel back into the house sometimes even 10 feet.

What we need to do is lift the gutter up ever-so-slightly here, so this way the water flows to the drain. We also noticed this problem in the winter time with large icicles built up in that area. Once we have re-pitched this gutter the water will flow to the drain, and this customer will not have any more problems.

My name is Steve from Roofer 911. We specialize in gutter repair and seamless gutter installation in all areas of Vienna and Lorton in Northern Virginia. I can be reached at 703-475-2446. Thank you.
Browse other blogs by keywords:
gutter gutter problems gutter repair Gutters leaky roof repair roof roof leak Roof Repair
0 Responses to "Vienna VA - Seamless Gutter Repair"
Speak Your Mind!
Tell us what you're thinking...
and oh, if you want a pic to show with your comment, go get a gravatar!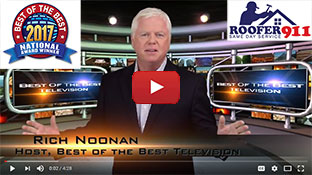 We Proudly Accept
Testimonial
What People Say About Us
Steve came out Tues. morning. Told us what the problem was, wrote up the proposal, and within the hour we had someone fixing our leak. So happy that he was able to come out and we can't wait for the next storm.
Marte Lange
business
Aldie, VA
December 5, 2012
0.3