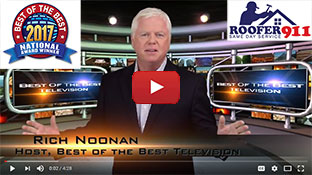 We Proudly Accept
Testimonial
What People Say About Us
Excellent work and very fair price. Arrived on time and met all requirements.
JIm Hitchcock
business
Ashburn, VA
March 2, 2011
0.3

Solar Roof Fans
| | |
| --- | --- |
| September 21, 2011 by - 0 Comments | |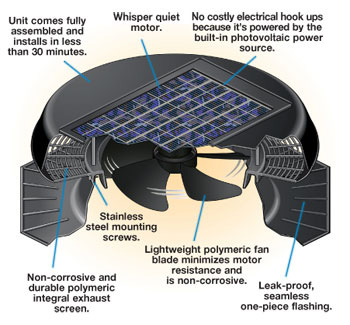 Solar roof fans are an excellent way to reduce your energy and your roof repair bills. Homeowners are increasingly using solar solutions because they are cost effective, even to the point in some cases of people who are off the energy grid, of becoming totally self-sufficient. Roof fans are a great way for you to get started.
Roof fans are really fans in your attic to promote the circulation of hot air that has built up. Hot air rises and, if not released, when it gets cooler turns into condensation and even can be like your own private rainstorm because of how wet it gets up there. In summer, the external heat keeps your attic really hot and in winter, the 24/7 operation of your furnace just generates more heat that ends up in your attic.
Add to that any electrical equipment like lights or fans that you have running, and you have a real risk of promoting the rapid deterioration of your roof because of mold and mildew, not to mention the buildup of ice dams in winter. By increasing the circulation of the hot air in your attic and mixing it up with the cooler air, you reduce the overall temperature and likelihood of the attic.
Using solar equipment reduces the amount of heating producing electric fans and lights and anything else you may be running up on your roof and in your attic. You also reduce your energy bill because you are using fewer electrical appliances as well as moderating the temperature of your house so that it does not go to as intense temperature extremes. As a general rule of thumb, it is always good to consult with your roofing company to make sure that you have the solar roof fans that are going to take you the greater distance for the most value.
Steven Briesemeister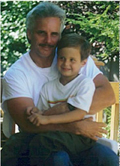 Browse other blogs by keywords:
0 Responses to "Solar Roof Fans"
Speak Your Mind!
Tell us what you're thinking...
and oh, if you want a pic to show with your comment, go get a gravatar!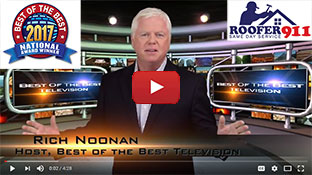 We Proudly Accept
Testimonial
What People Say About Us
Steven Briesemeister and his crew repaired my roof and replaced my attic fan. Steve came out within hours of my initial phone call, went up on my roof and took pictures of damaged areas, emailed me digital photos with an estimate and began work immediately following my approval. The crew were very prompt, knowledgeable, professional and courteous. They also assisted me with locating a reliable plumber when it was discovered a water leak was, not roof but, plumbing related. I will call Roofer911 when future needs arise and will also recommend them to friends. Thank you for the good work and great customer service!
Nancylee White
business
Vienna, VA
June 2, 2009
0.3