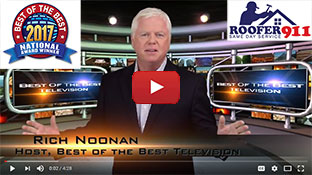 We Proudly Accept
Testimonial
What People Say About Us
Steve and his crew are the BEST!!!! They have done roofing and siding work for me for years, and always do a great job, professional, timely, and courteous. Thank you!
Kimberly Donnelly
business
Ashburn, VA
March 26, 2010
0.3

Roof Valley Leak in Arlington VA
Hi, this is Steve from Roofer 911.

I'm on a roof in Arlington, VA and they have a leak there down at the bottom of the valley here. What happened was, the homeowner originally called a contractor and he redid the entire valley which is good. This valley is okay but this valley over here, there's nails fastened too close to the center. It only leaks mainly when there's a heavy downpour or a melting snow.

What we'll do here is the same thing that the other contractors did over here. We'll remove the flashing. We're going to remove the shingles on both sides of the valley. Then we'll install ice and water shield right down then middle. Then we'll re-shingle it and we'll install a single cut close type valley like they have here.

Another thing is, after the valley is done, there's a very good chance the leak is going to come back. The reason why is the shingles that are on this home is certain pead horizon and they've been discontinued now for about 7 years because of premature aging. If you look at the roof very carefully, you can see all the stress fractures and it's like this all over the roof. The water can very easily get through the fractures and travel underneath the roof and then just settle here at the lowest point. I highly recommend to redo this whole section here and redo this but the roof is old. It's 23 years old so the rest of the roof has problems as well.

Honestly, I would highly recommend to remove and replace this whole roof because I guarantee you have other leaks that you just don't even know about yet. Also, where the roof and the wall meet here, there's nails fastened too close to the wall and by doing that, the contract is nailed into the step flashing underneath. That will also attribute to a leak. That will be here at the bottom of the valley but eventually that water will settle at the chimney.

After looking at this roof further, they have an attic fan here too and the attic fan was installed wrong. You can see the metal flashing is overlapping the shingles. The shingles should have been overlapping the flashing. The only place where the metal should be exposed is down at the bottom where the flashing overlaps the shingles. Again, with this roof, I would highly recommend to remove and replace it but I'll give you two different options.

My name again is Steve from Roofer 911 and I can be reached at 703-475-2446 and we specialize in roof repair in all areas of Arlington Virginia, and Northern Virginia. Thank you.

Browse other blogs by keywords:
leaks leaky roof repair a roof valley repair roof roof leak Roof Replacement roof valley leak roof valley repair shingle roof valley leak
0 Responses to "Roof Valley Leak in Arlington VA"
Speak Your Mind!
Tell us what you're thinking...
and oh, if you want a pic to show with your comment, go get a gravatar!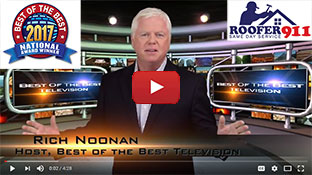 We Proudly Accept
Testimonial
What People Say About Us
The best home repair experience anyone could hope to have. Super prompt response. Reasonable time and cost estimates that were well-communicated with no surprises when all was said and done. The work itself was top-notch and accomplished with remarkable speed and precision.
Jon Brogdale
business
Woodbridge, VA
February 26, 2012
0.3