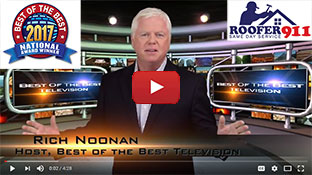 We Proudly Accept
Testimonial
What People Say About Us
Excellent quick work and outstanding customer service and support. I had missing roof shingles replaced as a result of a storm. They inspected my entire roof for other damage and fixed it at no additional charge. When it is time for me to do more roof work I will only call them and will certainly refer them to my friends!!
Rima Saleh
business
Ashburn, VA
September 25, 2012
0.3

Are You A Doofus When It Comes to Roof Safety?
| | |
| --- | --- |
| October 10, 2011 by - 0 Comments | |
When it comes to shorting yourself on roof safety, there is no excuse. You may think it isn't cool or that you have too much experience to warrant protecting yourself but consider the consequences of a misstep on a steep and slippery third story slate roof to you and your family. What if you become permanently incapacitated or even actually die from the fall? Are you willing to take that chance?
If you are a roofing contractor, what about your workers? They have family and health safety issues too but even if it's them and not you falling off a roof, you'll still be affected through Workers Compensation and insurance claims. Roof repair is one thing but mending a broken leg or cracked skull is another for everyone concerned.
Some basic safety tips to keep in mind are to avoid slippery roofs by waiting for them to dry, wear rubber soled boots and use work gloves for extra gripping power, use a safety harness tied to a roof security anchor and put in temporary wood cleats for toe holds on steeply pitched roofs, keep the roof work area clean of debris like sawdust and loose shingles, make sure the skid resistant, textured side of oriented strand boards are facing out, and install shingle underlayment as fast as possible to cut down on slippery surfaces. These are all standard safety rules to follow when installing roofs or just doing spot repairs. If you keep roof safety in mind when doing a job, you'll not only save you and your crew a world of hurt but get the job done faster and better before you are off to your next roofing assignment.
Browse other blogs by keywords:
OSHA Roof Repair Roof Replacement Roofers
0 Responses to "Are You A Doofus When It Comes to Roof Safety?"
Speak Your Mind!
Tell us what you're thinking...
and oh, if you want a pic to show with your comment, go get a gravatar!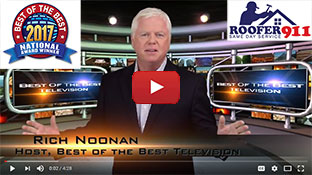 We Proudly Accept
Testimonial
What People Say About Us
Simply excellent company. From initial communication on the phone or e-mail to the same day visit to the computerized estimate/billing, Roofer911 is professional and outstanding. Steven, its owner, is always courteous, prompt and keeps his word. I have had two roofs and several leaky windows repaired by his crew and they have held out very well. There is simply no comparison to the other roofers I used in the past (ones who would make faulty repairs, take weeks to respond to customer service calls, etc.). I wish more contractors and those in the building trade were like him and his company.
James N.
business
Ashburn, VA
March 30, 2012
0.3