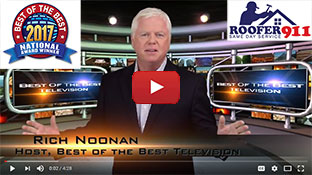 We Proudly Accept
Testimonial
What People Say About Us
They were great! Would recommend them to anybody. From troubleshooting the problem to the actual roof repair being completed was about 24 hours total. Very happy with the results.
Donna Harmon
business
Centreville, VA
October 15, 2009
0.3

Why Is My Roof Leaking In Springfield, VA?
Hi, this is Steve from Roofer 911.

I'm on top of a roof in Springfield, Virginia and they have a roof leak that's directly below on a cathedral ceiling. When I spoke to the homeowner, he said that he thought that he had a hole in the ridge vent that was causing the leak, but it wasn't. The leak was right in this area here.

You can see there's no holes. Instead, all these nails are starting to come loose and they're all not sealed. This ridge vent is also on the verge of blowing off. The problem is, when the contractors originally installed the ridge vent, they never sealed underneath. Also, they never attached the ridge vent to the rafters.

What I would really recommend, there's 30 feet of ridge vent on top of this home. I would recommend to remove them all. Once the ridge vents are removed, any shingles that are damaged are going to be either repaired or replaced.

Then, very important, we're going to seal underneath the ridge vent with polyurethane on both sides along the entire length of the ridge and then the new ridge vent is going to be pressed into the sealant and then we're going to attach it to the rafters. Also, all the fasteners are going to be re-sealed.

Another thing I noticed that they had - the home is going to be going on the market very soon, so if an inspector goes on this roof, he's going to say something right away. You can see this whole line or ridge was never installed correctly.

What we'll do is we're going to remove these shingles here and then we'll fasten new cap shingles into place and the cap shingles is going to go underneath the ridge vent all the way to about here, about 12 inches back. Also, they did the same thing on the other side.

Overall, the roof is still in good condition. It just needs some minor repairs.

Again, my name is Steve from Roofer 911 and we specialize in roof repair in all areas of Springfield, Oakton and Northern Virginia. I can be reached at 703-475-2446. Thank you.

Browse other blogs by keywords:
improper roof installation leaks leaky roof repair roof ridge vent leak ridge vent Roof Inspection roof leak
0 Responses to "Why Is My Roof Leaking In Springfield, VA?"
Speak Your Mind!
Tell us what you're thinking...
and oh, if you want a pic to show with your comment, go get a gravatar!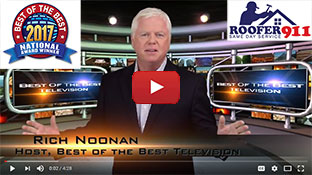 We Proudly Accept
Testimonial
What People Say About Us
Steve's team was great. I received a call back within an hour of requesting an estimate to repair my leaking roof. The job was completed the same day at a price well below what I had expected to pay. A very professional team and I will definitely recommend them to friends and family.
James Coolman
business
Montclair, VA
May 19, 2010
0.3