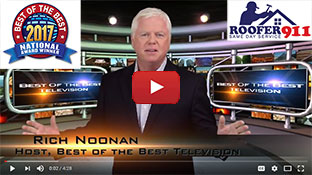 We Proudly Accept
Testimonial
What People Say About Us
After calling 2 companies to get my roof repaired and only getting voicemail (one never returned my call) from them, I did a Google search on Emergency Roof Repair in Fairfax Virginia. The very first site that came up was Roofer911. I was a bit skeptical at first, but decided to call anyway. As the saying goes, "Third time is a charm" well in this case it was a blessing!! Not only did the workers show up quickly, they got the work done before the rain came. Not to mention the fact that the phone was answered by a human and not an answering machine asking you to leave a message for a call back. Within 2 hours of my initial call I received an estimate with pictures and the workers showed up at the house to do the work. Thank you, Thank you, Thank you!!!! If anyone reading this has any doubts, it's your loss!! This is an excellent company!! I will not hesitate to call them again or recommend them to anyone.
Joseph Schiavone
business
Fairfax City, VA
July 29, 2010
0.3

Roof Inspection in Sterling, VA
Hi, it's Steve, I'm Roofer911.

I'm on your roof and the leak that you have inside the sunroom is right about in this area here. It's very possible the leak could be coming from up above and I noticed the way they did the valley, here, they put nails too close to the valley centerline and that's something you never do.

Even though there's a problem here, that's not going to cause the water to travel this way but, in this section here, this could cause water to settle inside the sunroom back. It can go back even as far as six feet. What I'd recommend is to change this valley, here, install ice and water shield which is a rubber membrane. It will be fully adhered to the metal flashing and then we'll re-shingle this area.

Also, directly above, you have a ridge vent. If the vent is not sealed underneath, that can also attribute to the leak because underneath that ridge vent, the wood sheeting is cut approximately one and a half inches on each side of the ridge and that's so the hot air inside the attic can go straight up and then escape through the sides of the vent.

I noticed the way they installed the vent was wrong. They cemented the seams and there's really not that much of an overlap and the same thing over here. I could see that there must have been a leak here one time because they put silicone and cement on top of this.

What we'll do is ... I would highly recommend to change the ridge vent. You can see, I'm directly above the area where you have the leaks. All the shingles in this area here are good, so nothing here is attributing to that leak below, except for this vent.

I noticed with these two vent pipes, one of them is installed incorrectly and I'll show why. They cemented it, but here, the water can channel its way inside here and go underneath the flashing of the vent pipe and then you'll have a leak.

Also, the collar here needs to be sealed because it's a loose fit. Now you definitely have a leak here. You can see the pipe flange is completely deteriorated so the water's seeping inside the attic and the reason why you don't know you have a leak, for now, is only because the insulation on the floor in the attic is absorbing the water. Once the insulation becomes saturated, then that's when you're going to notice water damage.

Let me show you something here. We can walk on the sunroom but only on the rafters and also down the middle of the ridge. If we step in the middle of the rafters, then we're coming through.

What I really recommend is to clean off a lot of this old cork and then we're going to re-seal it with polyurethane. It's a much, much better bond and you can see over here, right in this area here, you can see that the sealant is deteriorated and also back over there as well.

All right, my name is Steve. I'll have a proposal emailed to you very shortly. Thank you.

Roofer911 provides roof inspection and roof repair services in all areas of Sterling, VA. Call us today for professional roofing advice and assistance.

Browse other blogs by keywords:
leaks leaky roof ridge vent Roof Inspection roof leak roof repair contractors roof repairs Roof Repair
0 Responses to "Roof Inspection in Sterling, VA"
Speak Your Mind!
Tell us what you're thinking...
and oh, if you want a pic to show with your comment, go get a gravatar!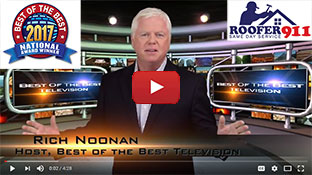 We Proudly Accept
Testimonial
What People Say About Us
You and your men were FIRST RATE....I am a business man and I had to do a double take at the speed, courteousness and quality of the finished product !!
Mike Gauer
business
McLean, VA
July 26, 2009
0.3