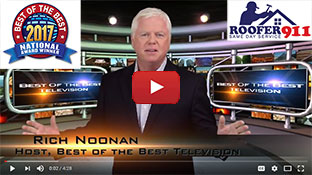 We Proudly Accept
Testimonial
What People Say About Us
Great communication and follow up through the process. Steve really knows his stuff.
Craig Steger
business
Ashburn, VA
January 11, 2013
0.3

Roof Inspection And Roof Repair In Springfield, VA
Hi. This is Steve from Roofer 911.

I'm on a roof in Springfield, Virginia, and it had a few different leaks, and I'd like to show you exactly what's going on with this home.

There's a leak all the way down at the corner, and when I lifted up the shingles along the valley, I noticed some of the nails were fastened too close to the valley center line. What we need to do is remove all the roof material, starting from the bottom, all the way up to the top of the ridge, and we're going to install ice and water shield, which will be fully adhered to the deck, and then we're going to reshingle this area.

Also, when I did an infrared scan inside the home, I noticed a little bit of moisture down here, and so that's coming from the ridge vent. The reason why is because it was never waterproofed underneath.

What we need to do is remove this ridge vent, which is approximately twenty linear feet, and then once it's removed, any shingles that were damaged in the process, they're going to be repaired or replaced, and then, very important, we're going to install polyurethane to the deck on both sides of the ridge. Then the ridge vent is going to be pressed into the ceiling, and make sure that we attach it to the rafters underneath, and then we'll reseal all the fasteners.

Also, we're going to check this gutter to make sure there's no debris in there that's clogging the downspout, because that can also cause a leak, but from what I see, everything looks good.

Like I said, the leak is all the way down at the lowest point, so we need to repair everything that's directly above, and here, you can see there's another valley that leads all the way down to the bottom, so what we're going to do to the other valley, we're going to do exactly the same here.

Also, there's a ridge vent directly above this area, too, so we got to remove it, and then we're going to waterproof underneath. With this leak, you have to target it from every possible angle, because if you don't, the leak will come back.

Also, there's two shingles over there that are missing. That's not causing the leakage inside, but eventually it will, so we're going to replace those shingles with new, but as I was walking around, I noticed a couple other things.

Here, the flashing is done incorrectly around the stack pipe, so the water's getting underneath, and eventually it will leak inside the home.

Also, where the flange meets up against a pipe, many times you develop fractures, and it can cause a leak inside the home, so somebody sealed this with calk, and it's not going to leak from the flange, but it will leak from the stack pipe here from the seam. If there's a driving rain, the water can get inside the seam here, channel it's way inside, and then bypass the calk here, and then leak inside the home.

Now when I was coming up, I thought I saw some nails in the flashing over here as well. Let me check this. Yeah. No, I thought I saw some nails, but overall it's okay. We're going to seal the leading edge of the counter flashing with polyurethane. The brickwork is okay. That's not a problem. Everything here is good.

Again, my name is Steve from Roofer 911, and we specialize in roof repair in all areas of Springfield, Centreville, and Northern Virginia, and I can be reached at 703-475-2446. Thank you.
Browse other blogs by keywords:
improper roof installation leaks leaky roof repair roof residential roofing roof damage Roof Inspection roof leak
0 Responses to "Roof Inspection And Roof Repair In Springfield, VA"
Speak Your Mind!
Tell us what you're thinking...
and oh, if you want a pic to show with your comment, go get a gravatar!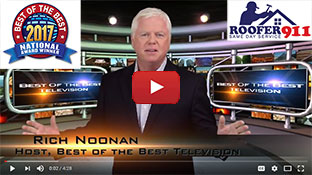 We Proudly Accept
Testimonial
What People Say About Us
This is the second time I've hired Roofer 911 to work on my roof. The first was for a patch and this time was a complete roof cleaning and sealing. I so appreciate the professionalism and superior workmanship of Steve and his crew. The work is on time, on budget, excellent quality. The grounds are probably cleaner than when the crew showed up! I'd hire this man and Roofer 911 any time, any where. Thanks for coming out to Springfield!
Susan Teaford
business
Springfield, VA
August 31, 2010
0.3