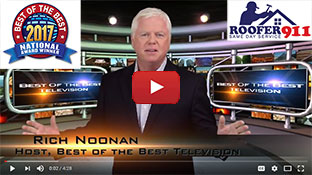 We Proudly Accept
Testimonial
What People Say About Us
Roofer 911 is very responsive. They show up when they say they will and they do a professional job. Also, their service is convenient because I could do everything electronically--from requesting an estimate to paying for service.
MD Settles
business
Alexandria, VA
April 26, 2011
0.3

Roof Inspection And Repair In Herndon, VA
Hi, this is Steve from Roofer 911.

I'm on a roof in Herndon, Virginia, and they have a leak right down here, right down at the corner. I noticed there's a quite a few different things that's causing this leak. Now, one of them is a satellite dish support plate. We need to remove this and then we're going to re-shingle this area.

Also, this gutter was clogged with debris. I cleaned it out a little bit, but I got to get it all out. Because the gutters, when they're clogged, they can cause water to overflow over the back and inside the home.

The biggest problem is here. All this flashing here up against the wall is wrong and you can see there's a nail exposed here and it's like this with every single shingle along the wall. What we need to do is remove all the roofing material where the roof and the wall meet, and then we're going to repair or replace any of this damaged flashing and we'll re-shingle this area.

I wanted to show you something. All right, the nail is right there. That nail should be not exposed. There should be no nails exposed in the flashing at all, but instead, this nail here should be holding this flashing underneath this one here, so this way, this piece would be overlapping the nail and the customer would not be having the leak.

Now, being that the leak is at the lowest point, I needed to check everything above, and that includes the siding. I wanted to make sure that all these panels are overlapped sufficiently enough, and sure enough it is so the vinyl siding is good.

I wanted to show you something else. Now, here, where the roof and the wall meet, they did the same thing. There's nails exposed in the step flashing, so we need to take up all the roofing here, repair or replace any damaged step flashing, and then re-shingle it.

Now, another thing is if there's a driving rain, I noticed two other things that could cause that leak in the corner, and that's possible hairline fractures to the inside corners, so what we would do here is we would go inside the home and then we would seal the fractures with polyurethane. Fractures can occur during normal expansion and contraction.

The other thing is the ridge vent up here is brought all the way to the eave. Now, that's a problem only if the contractor cut the open breather all the way to the end, and if he did, if there's a driving rain the water will get in through the side of the ridge vent, then the water will travel down the roof, in between the shingles and the felt. The water will settle down inside the exterior wall and then leak down here at the bottom of the valley.

Now also, this satellite dish, I see that the mounting plates were never sealed, so we're going to seal the bolt and seal around the mounting plates with polyurethane. Once we're done, we targeted this leak from every possible angle, and they will not have this leak again.

Again, my name is Steve from Roofer 911, and we specialize in roof repair in all areas of Herndon and Northern Virginia, and I can be reached at 703-475-2446. Thank you.
Browse other blogs by keywords:
gutter cleaning leaks leaky roof repair roof residential roofing Roof Inspection Roof Repair
0 Responses to "Roof Inspection And Repair In Herndon, VA"
Speak Your Mind!
Tell us what you're thinking...
and oh, if you want a pic to show with your comment, go get a gravatar!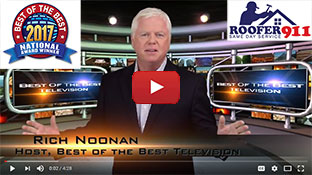 We Proudly Accept
Testimonial
What People Say About Us
Called Roofer911 in the morning. Workman arrived before noon and finished by 1pm. This was a small repair job which most contractors would get to between other jobs and charge as much as they could. Instead I received excellent service and workmanship at what I concedered a fair price. They completely cleaned up after themselves. Found this contractor to be very accomodating with very good consumer skills. I would recommend them to my closest friends and family. I plan on using them to do other needed repair work.
Charles Bilello
business
Potomac Falls, VA
March 21, 2011
0.3