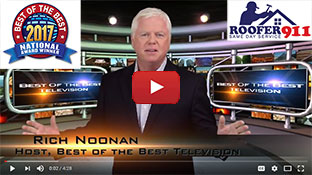 We Proudly Accept
Testimonial
What People Say About Us
Response time and actual repair was great. I appreciate the quick turnaround and response given to me from Steve. He did a great job!
Mike Jordan
business
Fairfax Station, VA
February 25, 2010
0.3

Roof Flashing Repair In Ashburn, VA
Hi, this is Steve from Roofer 911.

I'm on a roof in Ashburn Virginia, and the homeowner has a leak where the lower roof meets up against the wall directly below that downspout. Now, one thing I tell my customers all the time, wherever you see the water stain inside your home, it doesn't mean that the leak is originating from directly above on a roof.

She got other estimates from other contractors and they were saying all you have to do is just seal where the roof meets up against the J channel with caulk and that will resolve the problem.

Little did they understand that, that leak could be starting from all the way up above and then the water is travelling underneath the shingles. Wherever the water finds an opening, that's where it will settle, and usually the water settles at the lowest point, and that's where the shingle roof and the metal roof meet.

The only way to resolve this problem is to remove all the roof material where the roof and the wall meet, repair or replace any damaged step flashing, and then re-shingle this area.

The ridge vent here has nothing to do with the leak, the ridge vent is fine. Once these procedures are done, this leak is over and done with.

My name is Steve from Roofer 911, and we specialize in roof repair in Ashburn, Bluemont, and all areas of Northern Virginia. I can be reached at 703-475-2446. Thank you.
Browse other blogs by keywords:
leaks leaky roof repair roof ridge vent leak ridge vent roof leak Roof Repair
0 Responses to "Roof Flashing Repair In Ashburn, VA"
Speak Your Mind!
Tell us what you're thinking...
and oh, if you want a pic to show with your comment, go get a gravatar!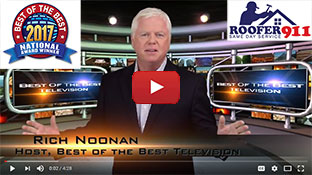 We Proudly Accept
Testimonial
What People Say About Us
I was amazed at how quickly Roofer911 responded to my request once posted. The roof was repaired the next day and specail care was taken to ensure my needs came first for a payment method. Very accomodating!!
Maureen Collins
business
Herndon, VA
April 15, 2011
0.3