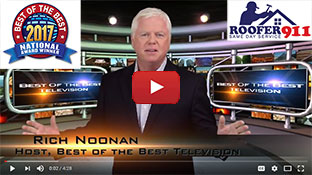 We Proudly Accept
Testimonial
What People Say About Us
What a great company! The co-owner explained why we had a leak in our roof, its probable cause, and what would be the best way to fix it. The next day, the men came, worked, fixed it, and left without a trace (no soda cans or construction trash to be seen). The job was done the day after I called about needing the repair, and it is guaranteed. I highly recommend these gentlemen.
Michie Gluck
business
Herndon, VA
February 2, 2012
0.3

Three Choices for Roof Cleaning
| | |
| --- | --- |
| October 29, 2011 by - 0 Comments | |
Asking your housekeeper to do the roof cleaning might not be the wisest choice you can make to get those nasty algae stains off the asphalt shingles. It's not that she (or he) is not capable of doing it, but working on a wet, slippery roof can be dangerous. It's better to leave it to roof repair professionals equipped with state of the art safety equipment.
There are three basic methods that can be used to clean a roof. If you are concerned about the environment an oxygen-based cleaner is the best product for the job. It does not damage other surfaces such as cedar decking or patio stones if it splashes. It's also safe for plants, animals and people that may contact the solution.
The most power chemical for algae removal is sodium hydroxide. It reacts with the organic material turning it into a sudsy scum that can be rinsed with a pressure washer. The bad thing about is that it's not good to have direct contact with the skin or living plants. It can cause burning sensations or painful irritations.
The third option is bleach and water. It kills the algae and with a little scrubbing your roof comes out very clean. Then it can be rinsed with water from a garden hose. The problem with this is your yard will smell like bleach and you risk killing the grass and other plants near the house. It also does not last as long as the first two methods - a year from now you'll have to do the roof cleaning all over again.
Browse other blogs by keywords:
0 Responses to "Three Choices for Roof Cleaning"
Speak Your Mind!
Tell us what you're thinking...
and oh, if you want a pic to show with your comment, go get a gravatar!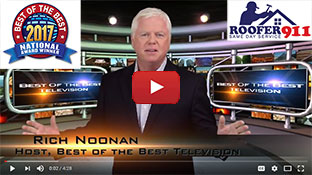 We Proudly Accept
Testimonial
What People Say About Us
I sent an email request for an estimate at about noon one day and the next day by 10:30 my roof repair was complete. Within the next fews days, there was a hard rain; the ceiling in my bedroom did not leak. I have had two other contractors "fix" the leak. Needless to say, they didn't fix anything. I can't brag enough about roofer911. Super job!
Que Smith
business
Broadlands, VA
August 24, 2009
0.3