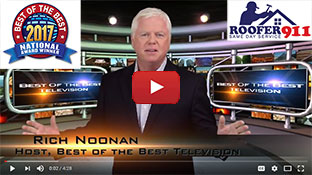 We Proudly Accept
Testimonial
What People Say About Us
The folks at Roofer911 were so great. They would have come out the same day if I wanted them to, but they ended up coming out the next day right away and the work was done by lunch. The leak from our roof was fixed and they even looked to see if anything else would have been causing the leak and said I was good to go. Very professional and very fast. I highly recommend.
Jessica Reilly
business
Bristow, VA
May 16, 2013
0.3

Remove Ice Dams in Gutters
| | |
| --- | --- |
| August 3, 2011 by - 0 Comments | |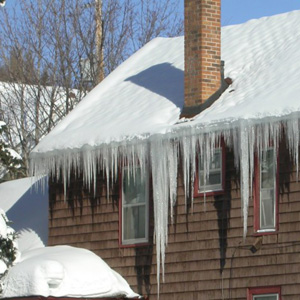 Every once in a while we'll get caught with a back up of water in the gutters that suddenly turns to ice dams when the temperature drops unexpectedly. Even if the weather channel has been announcing a deep freeze, sometimes you just can get to that pile of slippery leaves blocking the water flow.
It's no fun at all to remove ice from a gutter. The experience makes you cold and miserable. However, the alternative will have consequences far more unpleasant. In cold weather it's natural for snow on the roof to warm up enough on a sunny afternoon and start dripping over the edge. At just the right temperature, the drips form icicles. They give your home a picturesque appearance, but it's not what you'll be thinking about when one of those icy spikes drops on your head.
Aside from your personal safety, a frozen gutter presents a challenge for your house in the form of water damage. At any point where water accumulates in or around the structure of the house you have a problem. Gentle as a drop of water may seem, a perpetual drip wears down everything it touches.
Leaking over the edge of a frozen gutter, it can seep through the soffit, fascia, walls and windows. You'll end up with rot, mildew, mold and obvious signs of water damage inside the house. You'll need a good set of rubber gloves and a small chisel to chip away at the ice dam in the gutter, but do it before it gets worse. You can use a small amount of hot water to help melt it, but be careful not to apply too much pressure or you might knock down the gutter.
Browse other blogs by keywords:
Attic Gutters Ice Dam Insulation
0 Responses to "Remove Ice Dams in Gutters"
Speak Your Mind!
Tell us what you're thinking...
and oh, if you want a pic to show with your comment, go get a gravatar!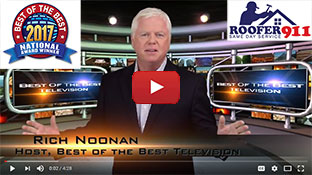 We Proudly Accept
Testimonial
What People Say About Us
Can't say enough great things about Steve Briesemeister and his crew! Everything about Roofer 911 is professional and courteous. The work is excellent, and affordable - and you can tell from watching and talking with them that they really take pride in and enjoy what they do! I would highly recommend Roofer 911 to anyone with roofing problems. Give Steve a call. You'll be so glad you did. I am!!
Fran Troup
business
Manassas, VA
September 8, 2008
0.3