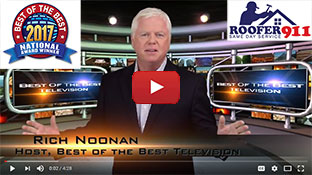 We Proudly Accept
Testimonial
What People Say About Us
Quick, fast, and reliable. I had a leak in my roof in two places. The Roofer911 team came the next day and repaired my roof. Very happy with the service and attention they gave me.
Robert Novak
business
Chantilly, VA
December 17, 2012
0.3

Ashburn VA - Missing Roof Shingles (Hail Damage?)
Hi this is Steve, from Roofer 911.

I'm on a roof in Ashburn, Virginia that has missing roof shingles. The first thing we need to do when repairing this roof is replace the missing shingles.

Once the shingles are replaced the next thing we need to do is refasten all these surrounding loose ones, because what will happen is after the repairs are done and these loose shingles are not taken care of the next strong wind we have, these loose shingles are going to come off next.

Once all these shingles are refastened, then we're going to reseal them with polyurethane, and this will be a permanent fix.

Also the homeowner had somebody go up on the roof, he was knocking on the door saying that a lot of people in the neighborhood had hail damage, but they have no hail damage whatsoever. This roof is excellent.

You have to be careful of people knocking on doors because many times these contractors are from out of state, and they're storm seekers. If they ended up doing a new roof for you and you have problems, you're going to have a very hard time getting in touch with them, and very likely you will not be able to.

Here's another section here that has missing shingles, so we're going to replace them and refasten all these surrounding shingles as well. Again, my name is Steve, I'm Roofer 911 and we specialize in roof repair in Ashburn, Brambleton, and all areas of Northern Virginia. I can be reached at 703-475-2446. Thank you.

Browse other blogs by keywords:
Ashburn roofing contractors Roofers in Ashburn missing roof shingles repair roof roof repair contractors Roof Repair roof shingles roofing scam
0 Responses to "Ashburn VA - Missing Roof Shingles (Hail Damage?)"
Speak Your Mind!
Tell us what you're thinking...
and oh, if you want a pic to show with your comment, go get a gravatar!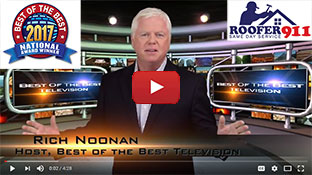 We Proudly Accept
Testimonial
What People Say About Us
These guys are incredibly fast and responsive. It looks like a new roof now. Before I contacted them I was really worried that the roof would not come clean and that I would be wasting my money. I was wrong and now it looks as good as the day it was installed over a decade ago. Additionally, they discovered a problem with one of the vent pipes that could have turned into a leak and cost me much more to fix if the water had gotten into the attic.
Gene Schurg
business
Vienna, VA
July 28, 2009
0.3