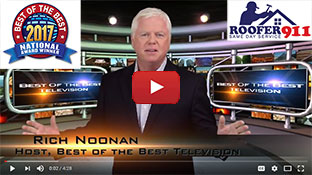 We Proudly Accept
Testimonial
What People Say About Us
"Response time for roof repair was outstanding. Problems, to my knowledge, were thoroughly investigated and described to me prior to work being accomplished. Price was higher than other vendors but may prove to be acceptable if problems have been solved. The result of the repair will not be known until another heavy snow and/or rain storm with high winds is experienced. The warrantee on workmenship is only six months which may not allow for a full years cycle of weather conditions. Otherwise, I left thinking the job was done very well and professionally."
Mel K.
business
Vienna, VA
January 2, 2009
0.3

Infrared Roof Leak Detection In Ashburn, VA
Hi, this is Steve from Roofer911.

I'm at a home in Ashburn, Virginia. They have a leak that's coming from the ridge vent and I want to show you something. You see the dark blue? That's where the water is settling inside the exterior wall.

Also, there's some moisture here right next to the vent. A lot of this water is travelling right across the top of the raft to all these dark blue that's all moisture. Here you can see it's just travelling right across the top of that raft and here it's all wet. It's all wet right there where you see the dark blue.

The source and the problem is the ridge vent. The water is travelling about 25 feet and it's settling down inside the wall. Now, eventually the water is going to settle down inside the basement. Right in-between the two windows, you can see the water is dropping down. Let me see if I see it there. Yeah, there's a little bit of moisture down at the floor at the baseboard.

Again, my name is Steve from Roofer911 and we specialize in roof repair in all areas of Ashburn, Aldie, and Northern Virginia. I can be reached at 703-475-2446. Thank you.


Browse other blogs by keywords:
home repair Infrared leaks leaky roof repair roof ridge vent ridge vent leak roof leak
0 Responses to "Infrared Roof Leak Detection In Ashburn, VA"
Speak Your Mind!
Tell us what you're thinking...
and oh, if you want a pic to show with your comment, go get a gravatar!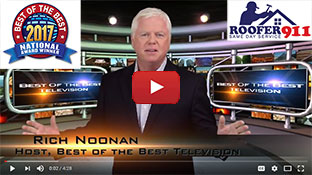 We Proudly Accept
Testimonial
What People Say About Us
Great on time service. All repairs explained. Detailed email invoice with pictures of the work. The way it should be done always.
Scott Gilbert
business
Woodbridge, VA
October 19, 2009
0.3