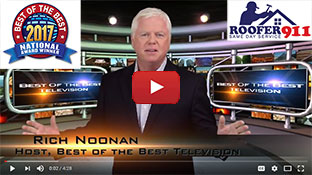 We Proudly Accept
Testimonial
What People Say About Us
Outstanding! quick response with detailed description of what needs to be done with photos, which are very helpful. Reasonable price. many thanks,
Limin Zheng
business
fairfax, VA
May 19, 2010
0.3

Ice Dam Removal And Repair In Sterling, VA
Hi, this is Steve from Roofer 911.

I'm at a home in Sterling, Virginia and they have leaks inside their home. One of the reasons is because of this gutter. This is a leaf guard gutter system and many people think with a leaf guard you will not have any ice dam leaks, but they couldn't be further from the truth.

Now you can see there's ice built up on the fascia board behind the gutter, but then also back about two and one-half feet on the soffit, there's icicles there as well. Here we can see there was ice here on the outside vinyl siding at one time, but it dried up.

Let me see what we've got. Yeah, you can see there's a lot of ice that's built up on the roof, but then also there's a valley up above and then over here, this is even worse. What's happening is when the ice starts to melt, the water can go underneath the shingles and then leak down inside the home.

What we need to do is get all this snow and ice off the roof. We're going to take this leaf guard gutter system off. We're going to remove about nine courses of roof shingles. Once the shingles are removed and the gutter is removed, we're going to fully adhere ice and water shield from the gutter line all the way up and we're going to overlap the wood fascia board by about four inches.

Once that's done, then we can screw the gutter back into place. Then we'll put new shingles up here as well. Now the benefit of having the ice and water shield behind the gutter, it seals the screws from behind that's holding the gutter into place. The ice and water shield underneath the roofing material, it seals the nails that are holding the shingles into place.

Now also over here in the valley, this is also attributing to the leak inside the home because there's an ice dam underneath the shingles so we need to remove all this snow. Then we'll remove the shingles on both sides of the valley and then we're going to install ice and water shield right along the entire length of the valley. Then we'll re-shingle it.

Now I need to see if there's a ridge vent up here too. I don't think there is, but if there is we're going to have to remove the ridge vent and seal underneath.

My name is Steve from Roofer 911 and once all our procedures are done, this homeowner will not have anymore ice dam leaks and I can be reached at 703-475-2446 and we specialize in roof repair in all areas of Sterling and Northern Virginia. Thank you.


Browse other blogs by keywords:
ice dam leak ice dam repair Ice Dam leaks leaky roof repair roof roof leak Roof Repair
0 Responses to "Ice Dam Removal And Repair In Sterling, VA"
Speak Your Mind!
Tell us what you're thinking...
and oh, if you want a pic to show with your comment, go get a gravatar!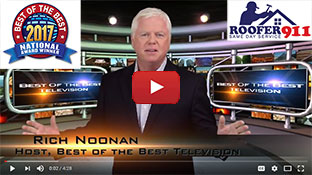 We Proudly Accept
Testimonial
What People Say About Us
Professional, courteous, knowledgeable, fast, thorough, good price and great customer service!
Kim Duclos
business
Aldie, VA
July 7, 2011
0.3