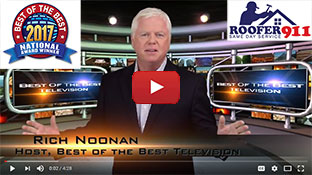 We Proudly Accept
Testimonial
What People Say About Us
Excellent quick work and outstanding customer service and support. I had missing roof shingles replaced as a result of a storm. They inspected my entire roof for other damage and fixed it at no additional charge. When it is time for me to do more roof work I will only call them and will certainly refer them to my friends!!
Rima Saleh
business
Ashburn, VA
September 25, 2012
0.3

Hidden Roof Leak Damage In Woodbridge, VA
Hi. This is Steve from Roofer911.

I'm at a home in Woodbridge, Virginia and they have a leak that's right across the top of the bed. If you look right there, you can see a yellow little stain. I always tell home owners all the time, "What you see is one thing. What I see may be something totally different." This is exactly what I mean.

This is an infrared image and you can see all this purple, all this blue, that's all saturated insulation. It's anywhere from 45% moisture to about 90%.

What I highly recommend is to go inside the attic, remove all that wet insulation. Let it stay open for about a week so everything dries. Once everything is dry, then you can put new insulation and I highly recommend to do this as quick as possible, removing the insulation. If you don't, there's a very good chance you could develop mold.

My name is Steve from Roofer911. If you have any questions, I can be reached at 703-475-2446. Thank you.
Roofer911 provides roof repair services in Woodbridge, Virginia and all areas of Northern Virginia.
Browse other blogs by keywords:
Attic leaks leaky roof mold repair roof residential roofing roof leak Roof Repair
0 Responses to "Hidden Roof Leak Damage In Woodbridge, VA "
Speak Your Mind!
Tell us what you're thinking...
and oh, if you want a pic to show with your comment, go get a gravatar!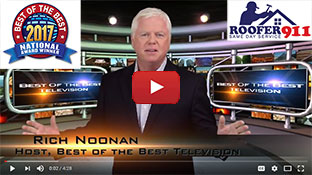 We Proudly Accept
Testimonial
What People Say About Us
Solid team - quick response - same day. Steve was great, answered every call, never had to leave a message. Jorge, the foreman was exceptional. Highly recommended - Thanks!
Rimas Cikotas
business
Alexandria, VA
May 20, 2010
0.3