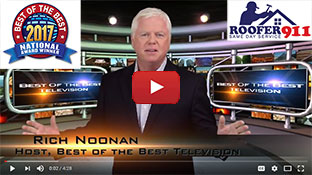 We Proudly Accept
Testimonial
What People Say About Us
The response, timing, quality repair, communication, documentation, and follow-up. EXCELLENT. Ben
Ben Sepahpour
business
Ashburn, VA
October 19, 2012
0.3

Herndon Roof Repair And Roof Inspection
Hi, this is Steve from Roofer 911.

I'm on top of a roof in Herndon, Virginia and this homeowner's getting prices for a new roof. When I went up on the roof I noticed this roof overall is in still very good condition. It has about 8 to 10 more years life to it.

There's only a few things that needs to be taken care of like this pipe collar over here it's deteriorated, so instead of just sealing it we're going to remove and replace it. Then also there's another pipe collar here this one is all deteriorated as well, so we're going to replace this one as well.

Now the most important thing is there's no ventilation on this roof. They have an attic fan, which is very good for the summertime, but in the wintertime they don't have a ridge vent and that's very important to prevent condensation build up and mold.

What I recommended to the homeowner is to install ridge vent along all the ridges and replace the pipe columns and every thing will be fine. The plywood underneath this roof is excellent.

There's a little bit of algae on the roof, but that can very easily be cleaned. This older roof will look likes it's brand new. Like I said, this roof is only 10 years old and it most certainly does not need to be replaced.

My name is Steve from Roofer 911 and we specialize in roof repair and roof replacement in Herndon, Fairfax City, and all areas of Northern Virginia. I can be reached at 703-475-2446. Thank you.
Browse other blogs by keywords:
attic fan new roof estimate repair roof ridge vent roof algae Roof Cleaning Roof Inspection
0 Responses to "Herndon Roof Repair And Roof Inspection "
Speak Your Mind!
Tell us what you're thinking...
and oh, if you want a pic to show with your comment, go get a gravatar!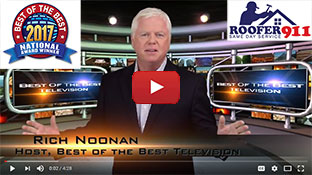 We Proudly Accept
Testimonial
What People Say About Us
I was pretty impressed with the service. It was a little pricey for me but I've dealt with other contractors and Steve was straight up with me when I talked to him about my aluminum siding problem. I didn't even know that they don't make aluminum siding anymore. The minimum charge is pretty reasonable for the exceptional level of services I received. I also was putting off fixing a small leak which Steve's crew found. I had that fixed at the same time. From the time I called, my problems were fixed within 24 hours. I would definitely recommend this company to others.
Roy M.
business
Lorton, VA
August 8, 2009
0.3