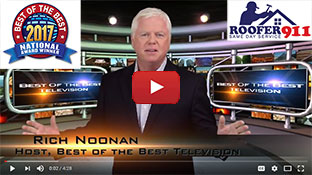 We Proudly Accept
Testimonial
What People Say About Us
The customer service was great, very quick and responsive!!
Anita Ahuja
business
Fairfax, VA
December 28, 2012
0.3

Frozen Gutters are Not a Winter Treat
| | |
| --- | --- |
| December 23, 2011 by - 0 Comments | |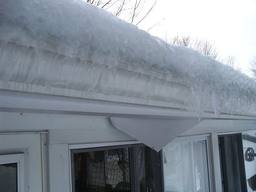 When you see frozen gutters, they usually also have icicles hanging off the edge. While this may seem like the ideal holiday scene in a wintry wonderland, it's a horror story in the making. Those frozen swords can break loose in the wind just as you are coming through your door. You may even experience an avalanche as built up snow starts cascading down after you slam your front door. Ack!
And around the side of the house, hiding behind those layers of snow and icicles is roof repair. It's not a Monty Python skit, it's often a dramatic winter reality that homeowners face. In the winter an ugly brown stain begins to appear, faintly and small at first. It's easy to overlook, especially as people don't often look up. But one day, you think, I need to get that painted, only to find, it's time to call a roofer. Painting over the brown stain won't make the problem disappear. What's an icicle got to do with it? Behind them is an ice dam, and behind that is snowmelt, sneakily working its way under the shingles and dripping its way down into your ceiling or wall.
Get your gutters cleaned in the fall. Have a contractor verify that you have good ventilation and insulation so heat stays in your house and the outside air can blow through the attic. You may need to install a heat delivery system over eaves and in gutters to prevent frozen gutters from ruining your winter.
Browse other blogs by keywords:
0 Responses to "Frozen Gutters are Not a Winter Treat"
Speak Your Mind!
Tell us what you're thinking...
and oh, if you want a pic to show with your comment, go get a gravatar!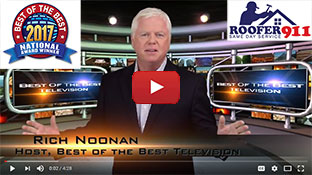 We Proudly Accept
Testimonial
What People Say About Us
The free examination of the roof and estimate for the repair was done within two hours of my call and a proposal emailed immediately. The work was completed very quickly and with no annoyance to my family. Workers were very concientious. Great company to work with!
Kori Magallanez
business
Centreville, VA
May 7, 2009
0.3