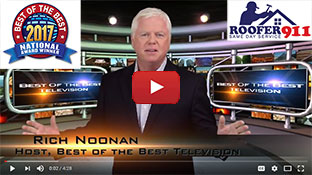 We Proudly Accept
Testimonial
What People Say About Us
I contacted Roofer 911 on Saturday night, and they were on my roof assessing the situation on Sunday morning. This crew moves very quickly and with stealth; I was in my basement and they came and went without me hearing them! Now that our initial urgent situation is rectified we are going to have Roofer 911 follow up with some less urgent items next month.
Hank Brandenburg
business
Bristow, VA
January 5, 2009
0.3

Finding a Ridge Vent Leak In Arlington, VA
Hi this is Steve from Roofer 911.

I'm at a home in Arlington, Virginia. When you see the mark right over here, the damage to the drywall, that's where the water has settled and the leak is originating from the ridge bed right up there at the crease.

Whenever there is a heavy downpour or driving rain, the water is getting underneath the ridge bed because it was never waterproofed properly. Then the water travels down the roof in between the shingles and the felt and wherever the water finds an opening, like a tear in the felt, that's where it will settle.

So the husband opened up this ceiling which was a very good idea. It prevented any more water from going down and settling inside the wall.

I wanted to show you, okay here's my infrared. Where you see the dark blue right there, that's where the water has settled and you can see by him opening it up - wow there's a little spot right there too. You can see that there's no water damage inside the wall. Where you see the dark blue dots that's cold air that's seeping in through the sides of the gutter spikes.

Let me show you something. Now here's the source. That's up at the ridge, right below the crease. So what we need to do is remove the ridge vent. Once it's removed then we're going to seal the deck heavy with polyurethane and then we're going to press and fasten the ridge vent right into the ceiling and into the rafters. Then we'll reseal all of the fasteners. Once we're done this leak will be permanently stopped.

If you have any questions, again my name is Steve from Roofer 911, and I can be reached at 703-475-2446/ Thank you.

Roofer911 provides roof repair services in Fairfax County, VA and all areas of Northern Virginia.

Browse other blogs by keywords:
leaks leaky roof ridge vent ridge vent leak Roof Inspection roof leak Roof Repair roof specialist
0 Responses to "Finding a Ridge Vent Leak In Arlington, VA"
Speak Your Mind!
Tell us what you're thinking...
and oh, if you want a pic to show with your comment, go get a gravatar!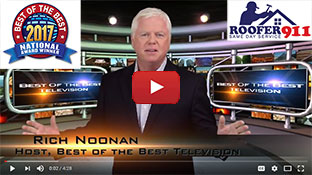 We Proudly Accept
Testimonial
What People Say About Us
Simply excellent company. From initial communication on the phone or e-mail to the same day visit to the computerized estimate/billing, Roofer911 is professional and outstanding. Steven, its owner, is always courteous, prompt and keeps his word. I have had two roofs and several leaky windows repaired by his crew and they have held out very well. There is simply no comparison to the other roofers I used in the past (ones who would make faulty repairs, take weeks to respond to customer service calls, etc.). I wish more contractors and those in the building trade were like him and his company.
James N.
business
Ashburn, VA
March 30, 2012
0.3