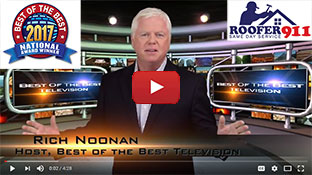 We Proudly Accept
Testimonial
What People Say About Us
Very prompt response and quick and thorough service. Price was reasonable.
Brian McGuire
business
Arlington, VA
July 16, 2010
0.3

Drip Edge Flashing
| | |
| --- | --- |
| September 21, 2011 by - 0 Comments | |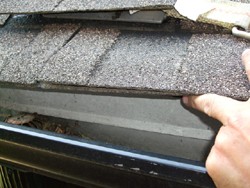 We have seen some botched up jobs when it comes to installing gutters, causing a serious rot situation when the homes don't have drip edge flashing to protect the fascia. If you are looking at a house that has drip edge, you will see a strip of metal about an inch and a half wide just under the starter course of shingles along the edge of the roof. It may be painted to match the color of the fascia.
In any case, the drip edge serves the purpose of deflecting the water running off the roof away from the fascia. On the sides of the roof where you have gutters it directs the rain into the gutters to be carried away from the house.
Before the invention of plastic gutter systems, they were made from metal. Long metal spikes were used to hold them in place. Without drip edge, it did not take long for the fascia to get wet and begin to rot. This made the gutter spikes loosen up, so the way to fix the problem was to pound roofing nails through the gutters into the wood. This compounded the problem because now there were more points where the water could access raw, unpainted wood.
It does not take a roof repair expert to realize that eventually all the fascia and at least part of the soffit would need to be replaced. This is why drip edge flashing is so important. It protects the fascia and saves money on your home maintenance costs.
Steven Briesemeister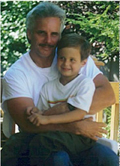 Browse other blogs by keywords:
0 Responses to "Drip Edge Flashing"
Speak Your Mind!
Tell us what you're thinking...
and oh, if you want a pic to show with your comment, go get a gravatar!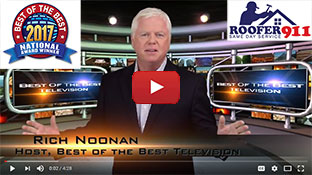 We Proudly Accept
Testimonial
What People Say About Us
With infrared scans and HD photos, Roofer911 completely put our mind to ease. We had other roofers who always seemed to disappoint--slow to respond, don't follow through on their promises, etc. Then a neighbor recommended Roofer911. Steven and his team are different than everyone else. Steven showed up when he said he would, conducted his assessment in a professional and courteous manner, explained everything he found, and sent a detailed write-up and estimate within an hour. The work was performed expertly by a trained and courteous crew who finished the job and walked through exactly what work they performed, again with detailed HD pictures to show before, during, & after. I will never use another roofer and highly recommend Roofer911 to anyone with roof repair needs.
Douglas Hamilton
business
Centreville, VA
February 18, 2013
0.3