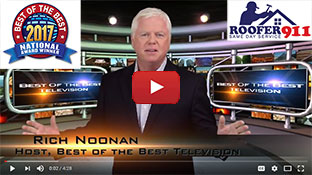 We Proudly Accept
Testimonial
What People Say About Us
Roofer911 is the appropriate name for this company! In addition to responding immediately to homeowners' distress calls, owner Steve Breismeister has an amazing ability to pinpoint the source of any roof, gutter or siding problem - even when the source is not obvious - and to fix it in a timely manner. Following the massive snowstorms of 2010, Roofer911 quickly detected and repaired ice-dam damage to my home so I did not hesitate to call again last week after discovering a leak. While I suspected I had a new leak in the roof, Roofer911 determined it was due to my upstairs windows not being properly sealed. In ensuring accurate detection, Steve B. surveys your home inside and out with an infrared camera, which clearly highlights areas of moisture, then assigns a Roofer911 crew to the job for immediate repair. His infrared camera speeds up the overall repair process while providing proof of damage to insurance companies in the case of homeowner's insurance claims. In addition to the peace of mind I experienced in knowing my problem was fixed, I saved time and money in the long run, preventing further problems that would have arisen had this been misdiagnosed and therefore, not addressed.
Karen Mehall
business
Fairfax, VA
March 17, 2011
0.3

How to Choose the Right Roofing Company
| | |
| --- | --- |
| August 18, 2011 by - 0 Comments | |
When your roof is leaking in the middle of a storm, it's a little late to be choosing a roofing company and have sufficient time to feel comfortable with your choice. It's better to have a contractor in place for emergencies.
When buying a house, ask the seller for the roof's age, contractor's name, and type of warranty. Since roofs can last longer than some people occupy a house, they may not know this, but may have a roofer they've used. This is a good start.
Ask family and friends; investigate at the Better Business Bureau. Check if they are licensed, bonded, and insured. Then call several companies for a roofing quote. If you already know where you need roof repair, that helps because you'll see if they find the problem. Different companies may find more or less wrong with your roof. You will develop a feel for the basis of their recommendations. Some companies may be more detail oriented or prevention based. Others may mention less fixes because they missed items or to offer a lower price to get the job. Ask them about the 'overlooked' fixes; their experience may say those are not immediate needs if budget is your issue, or they may have been exaggerated by the higher priced companies to make more money.
In the end, it is your call whom you feel you can trust to deliver quality timely work. Choose your roofing company before you have emergency needs and you know you've chosen well.
Steven Briesemeister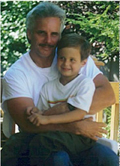 Browse other blogs by keywords:
0 Responses to "How to Choose the Right Roofing Company"
Speak Your Mind!
Tell us what you're thinking...
and oh, if you want a pic to show with your comment, go get a gravatar!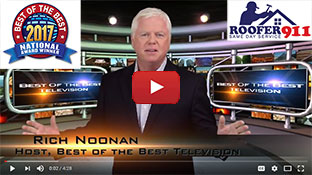 We Proudly Accept
Testimonial
What People Say About Us
The Roofer 911 workers were excellent. They arrived on time and quickly made the quoted repairs and more importantly, they identified the source of the leak and fixed the problem. Great work guys!
Kevin Perry
business
Ashburn, VA
February 18, 2013
0.3