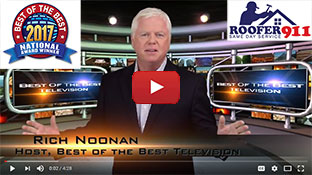 We Proudly Accept
Testimonial
What People Say About Us
Very satisfied with my roof repair. Quick estimate, immediate work completion and competitive pricing. I would recommend roofer911 to anyone in the area. Thanks
T Cyril
business
Fairfax City, VA
November 10, 2008
0.3

The Secret to Locating Chimney Roof Leaks
| | |
| --- | --- |
| July 31, 2011 by - 0 Comments | |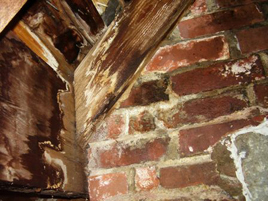 The trouble with chimney roof leaks is they can allow water to get into parts of your house where you least expect to find it. These leaks are often attributed to causing cracks in the foundation. Water accumulating between hairline fractures in the concrete or blocks expands as it freezes in the winter and the compromises the integrity of the foundation.
Chimney leaks usually start because the metal flashing surrounding the chimney where it penetrates the roof bends, cracks or lifts away from the roofing materials, leaving a gap where rain water can enter.
Take a look at the ceiling inside your house where the chimney comes through. Do you see signs of sagging or discoloration? If you notice this or feel moisture it's an indication you have a leak. You'll need to check it out a little bit further before you come to a final conclusion.
The next step is to inspect the ceiling in the attic for the same signs you found in the ceiling. Up there, you could also find evidence of rotted wood, mildew or mold. This is confirmation that water is seeping in around the chimney.
At this point you can hire a professional roofer to do the roof repair, or you can attempt to so it yourself. It will save money if you do it yourself, but a good roofing company will guarantee the work and stop the leak for good.
You need to climb up on your roof using all the necessary safety precautions. If the flashing is damaged, call an expert to replace it. No need to an amateur job that allows even more water in. If the chimney roof leaks are a result of worn out caulking, you can reapply this easily using a quality brand from your local hardware store.
Browse other blogs by keywords:
0 Responses to "The Secret to Locating Chimney Roof Leaks "
Speak Your Mind!
Tell us what you're thinking...
and oh, if you want a pic to show with your comment, go get a gravatar!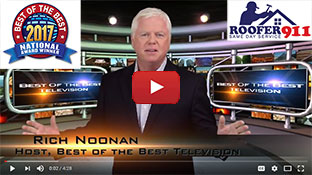 We Proudly Accept
Testimonial
What People Say About Us
After emailing Roofer 911 my phone rang almost immediately. Steve the owner came out first thing the next day and did what I thought was an excellent trouble shooting job. Steve
Virgil Chambers
business
Manassas, VA
March 19, 2013
0.3