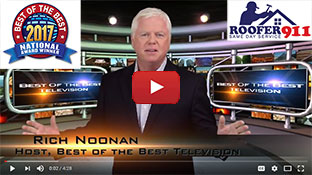 We Proudly Accept
Testimonial
What People Say About Us
Roofer 911 is a tremendous service provider! I originally called for a free estimate to have my roof cleaned. The estimate was very reasonable so we engaged Roofer 911 and they were ready to go within a day. Little did I know how important the guaranteed same roof repairs were going to be. Roofer 911 called from my home with an assessment of the roof and some serious issues with leaks, flashing around the chimney, missing shingles, etc. As soon as I was able to get to my email, Roofer911 had pictures of the damage available and an estimate for the repairs. The best part of the deal, however, was their willingness to get the repairs and the roof cleaning done in one visit! No hassles, no problems and no waiting for another contractor to show up for another estimate and another repair visit. Roofer 911's use of digital pictures and the internet to get things done is a model the rest of the industry should be following. I highly recommend this company - their customer focus is top notch and they do great work!
Bruce Walker
business
Vienna, VA
December 7, 2009
0.3

Salty Solutions to Calcium Chloride Roof Damage
| | |
| --- | --- |
| November 21, 2011 by - 0 Comments | |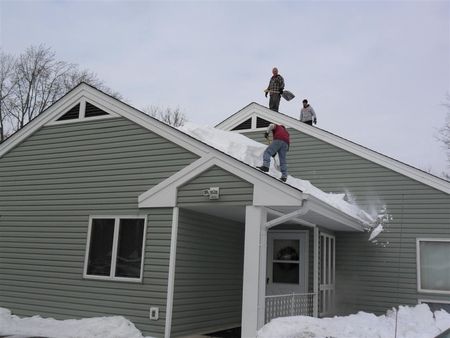 Just what is calcium chloride roof damage and why did it happen to me? You probably heard an ice dam is bad and are trying to eliminate it before it damages your roof and house interior. You probably were going for the immediate fix. Even if you plan to do the right thing by adding more insulation and ventilation to your attic, that won't melt the ice that is there now.
Calcium chloride is ice melt, those small white pellets like giant table salt that you throw down to melt ice on your sidewalk. Why do you care about ice on the roof when you're not walking on it? Behind that ice is water, ponding up and under your shingles and into your house. So the immediate solution is to melt through that ice dam so the water behind it can escape into the gutter rather than into your living area. Salts for ice melting are sodium chloride (rock salt), potassium chloride, calcium chloride, and magnesium chloride.
There is a downside to all of these rapid melting solutions. They can corrode your metal gutters and roof flashing, the runoff could kill your plants, even touching the salts could be a skin irritant. They even can damage concrete if it wasn't correctly mixed and cured for exterior use subject to freeze thaw cycles and deicers. The best prevention for calcium chloride roof damage is adding insulation and ventilation to your attic, maybe heated drip edge, and only use the salt once!
Browse other blogs by keywords:
0 Responses to "Salty Solutions to Calcium Chloride Roof Damage"
Speak Your Mind!
Tell us what you're thinking...
and oh, if you want a pic to show with your comment, go get a gravatar!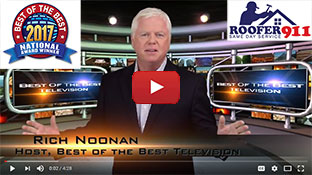 We Proudly Accept
Testimonial
What People Say About Us
Quick response both with estimate and service. Technical expertise and infrared technology with detailed explanation on what the roofing issue was. Full confidence in work completed! Would definitely recommend this company for any service, absolute professionals!
Jeffrey Vent
business
Herndon, VA
October 10, 2011
0.3