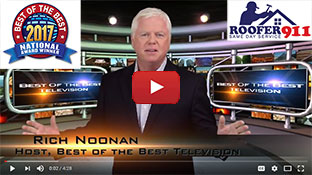 We Proudly Accept
Testimonial
What People Say About Us
First, you were the only company that offered a same day on site visit and estimate...Steven was very professional and informative. Estimate was thorough. On site crew were quick and organized. Crew leader was also pleasant and informative. I plan on sharing my Roofers 911 experience with neighbors. Thanks again!!
Michael S.
business
Fairfax, VA
November 14, 2009
0.3

Salty Solutions to Calcium Chloride Roof Damage
| | |
| --- | --- |
| November 21, 2011 by - 0 Comments | |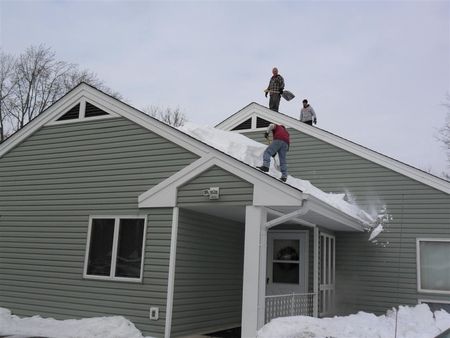 Just what is calcium chloride roof damage and why did it happen to me? You probably heard an ice dam is bad and are trying to eliminate it before it damages your roof and house interior. You probably were going for the immediate fix. Even if you plan to do the right thing by adding more insulation and ventilation to your attic, that won't melt the ice that is there now.
Calcium chloride is ice melt, those small white pellets like giant table salt that you throw down to melt ice on your sidewalk. Why do you care about ice on the roof when you're not walking on it? Behind that ice is water, ponding up and under your shingles and into your house. So the immediate solution is to melt through that ice dam so the water behind it can escape into the gutter rather than into your living area. Salts for ice melting are sodium chloride (rock salt), potassium chloride, calcium chloride, and magnesium chloride.
There is a downside to all of these rapid melting solutions. They can corrode your metal gutters and roof flashing, the runoff could kill your plants, even touching the salts could be a skin irritant. They even can damage concrete if it wasn't correctly mixed and cured for exterior use subject to freeze thaw cycles and deicers. The best prevention for calcium chloride roof damage is adding insulation and ventilation to your attic, maybe heated drip edge, and only use the salt once!
Browse other blogs by keywords:
0 Responses to "Salty Solutions to Calcium Chloride Roof Damage"
Speak Your Mind!
Tell us what you're thinking...
and oh, if you want a pic to show with your comment, go get a gravatar!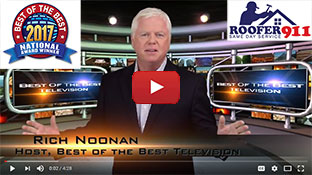 We Proudly Accept
Testimonial
What People Say About Us
This is the second time I've hired Roofer 911 to work on my roof. The first was for a patch and this time was a complete roof cleaning and sealing. I so appreciate the professionalism and superior workmanship of Steve and his crew. The work is on time, on budget, excellent quality. The grounds are probably cleaner than when the crew showed up! I'd hire this man and Roofer 911 any time, any where. Thanks for coming out to Springfield!
Susan Teaford
business
Springfield, VA
August 31, 2010
0.3