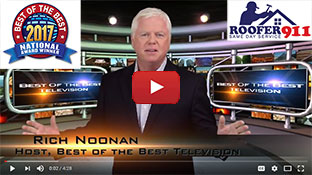 We Proudly Accept
Testimonial
What People Say About Us
I had a depression in my roof that needed immediate repair...I went on the internet, googled roofing contractors, filled in my needs and email address and phone number. Within 1 hour a Roofer911 Steven called me..He asked if he could come by and give me a quote..I said yes.... Steven told me exactly what my problem was and what caused it..then he proceeded to tell me what he would do to repair it.... with pictures.. He had gone up on the roof, checked it out, took photos and had a quote on my computer before I got up that morning..This was all done on the internet. I never met Steven, I still haven't, ( I even paid him over the internet). His attention to detail allowed me to choose his company over 2 others I had gotten quotes from..(They did not go up on the roof). I watched his two man crew do the repair from start to finish. I can see that these guys are the reason Roofer911 is so sucsessful. When they finished it was like they were never there. They cleaned up every bit of broken shingles, rotten wood, etc.. I highly recommend Roofer911... and will recommend them to all my friends...Yes Yes Yes... Sincerely, Robert G.
Robert Gordon
business
Vienna, VA
May 4, 2010
0.3

Water Damage Has Put a Brown Ring in My House
| | |
| --- | --- |
| July 31, 2011 by - 1 Comments | |
Water damage can be ugly and smelly, and needs to be stopped before it becomes structural damage. Water is quite tricky in how it works its way into your house. Lots of people don't even look up all that often, so minor leaks may be unobserved for a long time.
If only enough water is getting in to make brown stains on your ceiling, but then evaporates... before the ceiling falls in...
It may be a while before you even know there is something to be fixed. The damage is occurring hidden up in the attic, and the trusses, and the insulation, and the roof decking. Sometimes people even paint over those brown stains on the ceiling without thinking, "What caused that?" Maybe you even bought your house with those painted over stains. Then one dark and stormy night... The bad thing about leaks is that you may have a lot of damage by the time you can see it.
If you don't know the state of your roof, call a roofer, or three, and have them do a full inspection. Once they are up in the attic, they'll check for the discoloration of incoming water damage as it turns your wood black and/or white with mold and mildew. This damage can also work its way back into your home through the vents via mold spores that can negatively affect your health.
Have a roofer out at least once a year or after major storms to inspect for roof repair issues and hidden water damage.
Browse other blogs by keywords:
Roof Repair Ice Dam Roof Inspection Black Mold
1 Responses to "Water Damage Has Put a Brown Ring in My House"
Houston Roofing Contractors says:
May 26, 2012 at 6:10 AM
Letting a roof leak go on too long will only cost you more money later down the road. Be proactive and save yourself money by getting it repaired now!
Speak Your Mind!
Tell us what you're thinking...
and oh, if you want a pic to show with your comment, go get a gravatar!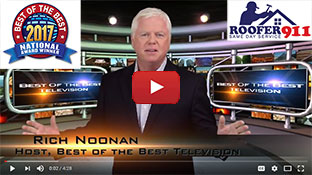 We Proudly Accept
Testimonial
What People Say About Us
The Roofer911 team performed the work as requested. They were prompt, courteous, and left everything clean when they were finished. Steven called to let us know when everything would be done. I would recommend them highly.
Dan Young
business
Alexandria, VA
July 29, 2012
0.3