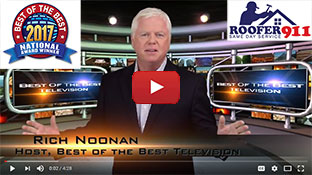 We Proudly Accept
Testimonial
What People Say About Us
I decided to conduct my homework on area roofing companies over the weekend. Out of the four I had provide estimates, Roofer911 was the only one to answer the call and provide a review within 24 hours. Steve (co-owner) provided a detailed estimate and patiently walked us through each aspect of the estimate. With his price competitive (within 5% of lowest estimate) and my wife and I both comfortable with him, we went forward and hired him. His crew showed up at 7 am promptly and their foreman explained to me each step he planned to accomplish and the amount of time he anticipated it would take. The entire job was complete in less then one day (five hours). My wife and I are very pleased and happy we chose Roofer 911.
James R.
business
Alexandria, VA
April 17, 2012
0.3

Architectural Roof Shingles Enhance the Value of Your House
| | |
| --- | --- |
| October 24, 2011 by - 0 Comments | |
Architectural roof shingles are the latest technology for roofing materials. They are designed from the highest quality materials to not only enhance the cosmetic appearance of your home, but also to give your roof a longer life. The initial expense is more than compensated by the reduction in roof repair costs. Whereas shingles were once considered low man on the totem pole for quality, they now provide amongst the best coverage.
Architectural roofing shingles are also called laminated or dimensional shingles. The common asphalt shingle is made from fiberglass, ceramic-coated granules wrapped together in asphalt. Today, the advancements in manufacturing have launched an entire new product made from synthetic slate. It looks and feels like slate, but is far more durable and handles better because it is made from a polymer composite specially designed for providing safer and longer lasting roofing shingles that look stunning.
There is every reason to have a beautiful house complement your major investment in your home. These shingles have a three dimensional appearance and even emulate cedar shingles. Now homeowners can enjoy the beauty of cedar roves without the natural deterioration of bleaching caused from UV exposure, staining from mold, mildew and moss, and the old age effects of cracking and splintering. Another benefit of these synthetic shingles is they are lightweight and do not require additional support as would slate.
Greater versatility for steep-pitched roofs and turrets has made these shingles very popular with homeowners replacing their roofs as well. Once restricted to normal slate or cedar hues, now a wide variety of color tones are available. Dynamic natural slate as well as warm terra cotta colors and dark greens can be chosen to enhance the beauty and value of hour home with architectural roof shingles.
Browse other blogs by keywords:
0 Responses to "Architectural Roof Shingles Enhance the Value of Your House"
Speak Your Mind!
Tell us what you're thinking...
and oh, if you want a pic to show with your comment, go get a gravatar!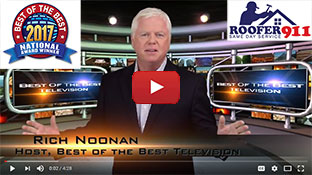 We Proudly Accept
Testimonial
What People Say About Us
Steve responded very quickly to my first inquiry. He was available to assess the damage the same day I contacted the company. The repairs were done efficiently. It has not rained yet to test the repair, but there is a 6 month warranty on the repair. Very satisfied with the level of response, the quality of the work and professionalism. I highly recommend Roofer911.
Methta Tran
business
GREAT FALLS, VA
September 26, 2012
0.3