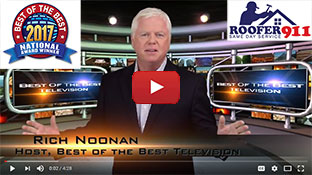 We Proudly Accept
Testimonial
What People Say About Us
Excellent! Job well done! Very efficient from start to finish. We also appreciate your quick response during this extremely busy time. Thank you very much Roofer911.
Janice Baumann
business
Alexandria, VA
November 3, 2012
0.3

Alexandria VA - Roof Repair Specialist
Hi this is Steve from Roofer911 .

I'm on a roof in Alexandria, Virginia, and the homeowner has two different leaks: One on the lower roof, right in this area here, and the first thing I noticed is this nail punch and you can see there's a nail starting to pop right through the shingle, here, and there's another one here, and then another one over there ... They're just scattered, there's probably about eight of them all together.

The roof shingles at the valley were installed correctly, so that's no problem, but what we need to do, is remove and replace these damaged nail popped shingles and then this leak will be stopped.

Another thing I want to mention, which will cause a leak if it's not taken care of. You see all the leaves have built up in the valley and that will cause water to dam up. The water can go right underneath the single-cut valley and leak inside the home; so I would highly recommend to keep these valleys clean. Very important!

Now, the other leak is on this other roof, and I'll show you exactly what's going on. First off, the roof has a very low pitch. Okay. All right, here's the ridge vent. The leak that they have is directly below this ridge, right along the entire length, so the only time this will leak it's got to be a very heavy downpour, and I mean heavy. Or a heavy melting snow.

What's happening is, underneath this ridge vent, the plywood is cut open about an inch and a half on both sides so, with that water getting underneath, it's dropping straight down inside the open breather; so, what we need to do is take this ridge vent off ... Then we're going to seal the deck underneath with polyurethane, on both sides of the ridge, and then we're going to press and fasten a new ridge vent into the sealant, and make sure that we attach it to the rafters underneath, and then we'll reseal all the fasteners.

Everything else is good.
Again, my name is Steve, from Roofer911. We specialize in roof repair in all areas of Alexandria, Burke and Northern Virginia, and I can be reached at 703-475-2446. Thank you!


Browse other blogs by keywords:
ice and water shield leaks repair roof ridge vent Roof Cleaning roof leak roof repair specialist Roof Repair
0 Responses to "Alexandria VA - Roof Repair Specialist"
Speak Your Mind!
Tell us what you're thinking...
and oh, if you want a pic to show with your comment, go get a gravatar!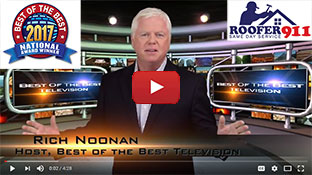 We Proudly Accept
Testimonial
What People Say About Us
Your quick professional roof and gutter repairs are greatly appreciated. Same day response was a blessing.
Norton Bragg
business
Alexandria, VA
August 6, 2010
0.3