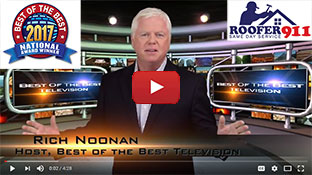 We Proudly Accept
Testimonial
What People Say About Us
Steve and his crew were the ultimate professionals. Steve took pictures and explained the repairs that were needed. The next day, he and his men arrived to to do the work. They spent several hours repairing the roof and installing a new attic fan. They cleaned up everything before they left. Steve called the next day to make sure that we were satisfied with the work, which we were. Many thanks.
Kathryn Brooks
business
Reston, VA
August 16, 2009
0.3
ROOFING BLOGS DIRECTORY
If you are a roofing contractor, home remodeler or a do-it-yourselfer who is about to begin a roofing project, the list of blogs on our site can be of great benefit to you. Here at Roofer911, you'll find hundreds of blogs about roofing on such topics as: roof installation, ventilation, ice dam, solar energy, mold, roof cleaning and much more. Whether you are a novice or an seasoned professional in the roofing trade, reading about other individual's experiences can prove as useful guidelines.
Galvanized Metal Roof Repairs
In some of the older Northern Virginia farmhouses in our region, it's not unusual to have a house or outbuilding that needs galvanized metal roof repairs from time to time.
Get Your Roof Ready For Spring
The snow has melted and Spring is here... Is your roofing system ready for yet another challenging season ahead? If not, don't worry 'coz you still have enough time to prepare and consult with your local Virginia roofer to inquire on the many ways to protect the one thing that protects your home.
Getting the Right Amount of Insurance Deductible
If you raise your deductible to $500 or $1000 dollars, then your monthly premiums will go down. Ask about bundling options, putting auto and home insurance together for savings.
Green Roof Systems
There are many benefits in having a green roof system; the greater insulation reduces your energy bills, your roof is slower to burn therefore increases your fire protection, and
Gutter Cleaning For Roof Health
After the last leaves have fallen, it's time to schedule gutter cleaning to make sure your roof is prepared for winter weather.
Gutter Flashing With New Roof
If you are discussing with your roofer whether you should be putting on gutter flashing with new roof, the answer is yes. Your roof is part of a total weather protection...
Gutter Screening Causes A Roof Leak In Arlington VA
Has your Homeowner's Association Got You Covered?
People buying into some condo developments must pay fees to a homeowner's association as part of their monthly living expenses.
Health Effects of Black Mold
We come into contact with organic materials floating around in the air all the time, but we need to be careful about being exposed to black mold. It is a toxic substance that can make you quite ill.
Heat Loss Calculator
You can go onto the Internet and find a heat loss calculator that is supposed to give you an idea of your home's energy inefficiency. You may run into an interesting
Heavy Snowfall... Winter fun or roofing nightmare?
Heavy snow not only adds excessive weight to your roof, which can cause major roof damage, but sets in motion a really annoying (and potentially expensive) phenomenon called the ice dam.
Help with Insurance Claims for Roof Damage
Insurance claims for roof damage can be tricky. We take care of the details for you.
Herndon Roof Repair And Roof Inspection
Herndon VA - Roof Inspection And Repair
Herndon VA - Roof Repair Specialist
Hidden Roof Leak Damage In Woodbridge, VA
Home Buyer Tips for Roof Leak Dummies
Even if you have never filed a claim for water damage, if there has been one filed for the house you are getting ready to buy, you may not find anyone willing to insure it.
Home Buyers Beware Hidden Roof Leaks
Hidden roof leaks can be the cause of black mold.
House Turret Do's and Don'ts
A house turret lends significant character to your house. There is a funny story about a Man and his Wife who's children had grown up and moved away, leaving the parent's in peace ...
How Can I Qualify for an Asphalt Shingles Tax Credit
Asphalt shingles tax credit qualifications are readily available at government web sites. Yes, there are tax credits available for house owners on various products including windows and roofs.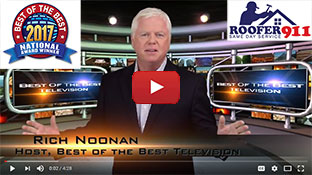 We Proudly Accept
Testimonial
What People Say About Us
Steve was quick to assess and isolate the problem with my roof leak. His team was able make the repairs immediately. Of course I need a severe storm to test the repairs, but based on Steve's experience, I'm confident that my roof leak has been repaired.
Kevin Dai
business
Fairfax, VA
March 2, 2010
0.3