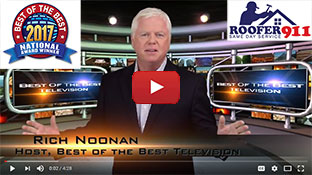 We Proudly Accept
Testimonial
What People Say About Us
After calling 2 companies to get my roof repaired and only getting voicemail (one never returned my call) from them, I did a Google search on Emergency Roof Repair in Fairfax Virginia. The very first site that came up was Roofer911. I was a bit skeptical at first, but decided to call anyway. As the saying goes, "Third time is a charm" well in this case it was a blessing!! Not only did the workers show up quickly, they got the work done before the rain came. Not to mention the fact that the phone was answered by a human and not an answering machine asking you to leave a message for a call back. Within 2 hours of my initial call I received an estimate with pictures and the workers showed up at the house to do the work. Thank you, Thank you, Thank you!!!! If anyone reading this has any doubts, it's your loss!! This is an excellent company!! I will not hesitate to call them again or recommend them to anyone.
Joseph Schiavone
business
Fairfax City, VA
July 29, 2010
0.3
ROOFING BLOGS DIRECTORY
If you are a roofing contractor, home remodeler or a do-it-yourselfer who is about to begin a roofing project, the list of blogs on our site can be of great benefit to you. Here at Roofer911, you'll find hundreds of blogs about roofing on such topics as: roof installation, ventilation, ice dam, solar energy, mold, roof cleaning and much more. Whether you are a novice or an seasoned professional in the roofing trade, reading about other individual's experiences can prove as useful guidelines.
Tips for Insulating Roofs
Insulating roofs is a really important consideration for both residential and commercial properties. Roofing materials like cedar shakes, clay tiles and asphalt tiles already have some insulation value, however metal roofs
Tips In Choosing Roof Contractors
Before you sign any contract or agreement of any form with your professional roofing contractors, make sure you have a checklist of things to consider and ask regarding the company you are about to hire. Do they have an active business license and are they insured properly? Are all of the employees covered? A professional residential contractor should have general liability and auto insurance, and workers compensation.
Top Notch Fairfax Vinyl Siding Repair
Do you have a home with siding in Fairfax? Vinyl siding repair protects your home against the weather.
Top Things To Look For When Choosing A Contractor
When choosing a roofing contractor, there are many things to keep in mind that will help you make the best choice. In this article you will find some helpful tips about how to select the best contractors to do work on your home.
Tornado Damage Can be a Wild Ride
Tornado damage is something most homeowners hope that they never have to face. It is devastating, can range from minor damage to or all out, right-down-to-the-ground destruction of your home.
Tricky Hidden Roof Leaks
Hidden roof leaks are not easy to detect when the interior of a house has been freshly painted.
Types of Roof Vents
roof vent types
Types of Soffit Vents
Soffit vents are important components for homeowners to consider for their roof. Many attic and roof ailments go away by making sure that your roof is adequately ventilated.
Unlicensed Contractors Bring Problems
Like a plague of hungry locusts, after a big storm is when the unlicensed contractors usually begin to swarm through neighborhoods in search of work.
Use a Roof Shovel or Roof Rake to Get 'er Down
Those who live in snow intensive areas know that when the big storms come through, it may be necessary to resort to using a roof shovel to eliminate the snow load on the roof.
Vapor Barrier Won't Stop Bad Breath
A vapor barrier isn't what you use to keep smells on one side of your house, though it may work. The purpose of vapor barrier is for preventing insulation from getting wet.
Vent Baffles are Anything but Baffling
Vent baffles, also referred to as vent chutes or rafter vents, are used to keep insulation from blocking air flow through the attic, thus allowing the air to travel upward and out through the exhaust vents.
Vent Pipe Flashing - It's a Good Thing!
Vent pipe flashing prevents that hole in your roof posing possible indecent exposure crimes, like roof leaks and other malicious roof repair issues. Seriously, the care and maintenance of your roof.
Video: Satellite Dish Leak Solutions
Watch this great video that shows what to do with a satellite leak dish!
Video: Those Pesky Roof Nail Holes
Roof nail holes might be the reason your brand new roof is leaking.
Vienna VA - Seamless Gutter Repair
Vienna VA - Why A Roof Attic Fan Will Not Cool A House
Vinyl Siding Repair is Super for Your Home
Vinyl siding repair benefits your home in more ways we can count on our fingers!
Walking on a Clay Tile Roofs
You will notice there is a section on each tile where it overlaps the tile below it. This is where the tile will give you the most support, so this is where you should place your steps.
Water Damage Has Put a Brown Ring in My House
If only enough water is getting in to make brown stains on your ceiling, but then evaporates... before the ceiling falls in...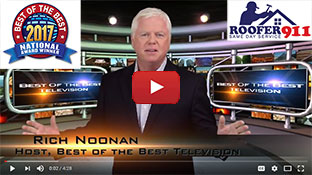 We Proudly Accept
Testimonial
What People Say About Us
After emailing Roofer 911 my phone rang almost immediately. Steve the owner came out first thing the next day and did what I thought was an excellent trouble shooting job. Steve
Virgil Chambers
business
Manassas, VA
March 19, 2013
0.3