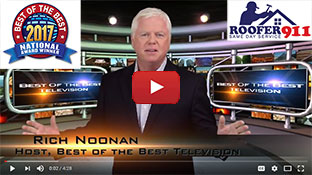 We Proudly Accept
Testimonial
What People Say About Us
I was very pleased with the quick and reliable service. All work was explained and performed to expectations.
Albert Monica
business
Clifton, VA
April 13, 2010
0.3
Choosing the Right Roof for Your Home
By: Roofer911.com
Aside from choosing the right contractor for your roofing project perhaps the most important decision you will have to make, is choosing the roof itself. There are many options to choose from and many factors to consider, sometimes making it a very difficult decision indeed. A good roofing contractor can help you in making the right choice.
As you begin the process of deciding which roofing system is right for you, there are many questions you must ask yourself (and the contractor). How long will the roof last? This is a big question and one that ultimately depends on the type of system used. Some are designed to last for twenty years and others are built to last fifty or more.
Weather conditions such as hurricanes, tornadoes, or heavy snow will also need to be considered. Are there wildfires or intense heat in your area? If so heat resistant materials may be necessary in order to get the most out of your new roof.
Is the desired material too heavy for the existing roof structure? If you have an older wooden home it may not be able to support clay tile or other heavier materials.
Will the new roof compliment the style of my home? If you own a historic home you may want to apply the same material that was originally used, or a modern material (such as plastic polymers) that can match the look. There are even synthetic materials that look like wood. Also, you will need to consider whether or not your roof has the right slope to accommodate the type of system you would like.
You will also need to determine if the local building codes allow using a particular roofing system. Again this is where a reputable, fully licensed and insured contractor can spare you a lot of headaches. And if there is a community association (you know the people that tell you what color your house can be) you may want to check with them as well.
Of course there are other factors to be to be taken into account, but a major concern of most folks is the cost involved with a new roofing project. All of the factors mentioned above will have an effect on the overall cost of the project. It is usually more cost effective to purchase the best materials that you can afford in order to get the maximum amount of use from your new roof. It doesn't do much good to save a little money if you end up having to replace your roof or do major repairs every ten years. Likewise, it doesn't make much sense to spend far more than necessary to get an adequate roofing system installed. For this reason I cannot stress enough the importance of choosing the right contractor (the topic of an upcoming article). You do not have to look very hard to find horror stories from people who did not do their homework while choosing a contractor. While accidents can happen, a contractor with integrity will never leave you high and dry. Use the following link for more great info
www.dannylipford.com/choosing-a-roof/
Article Source: http://www.roofer911.com
Attention Publishers & Webmasters; Our Reprint Policies:

If you wish to publish/reprint any article from our site in your ezine, website, blog, forum, or
print publication, you must:

Submit Your Roofing Related Article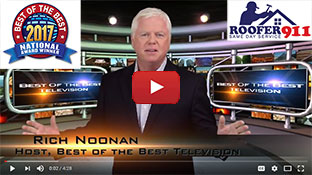 We Proudly Accept
Testimonial
What People Say About Us
Fast and easy to use. They were able to do it the same day they did the quote and were very reasonable. More importantly, they actually seemed to know what they were talking about and doing, which can sometimes be rare in the contractor business. I will have to put on a new roof in a couple of years and would definitely use them again.
Andrew Schmuhl
business
Springfield, VA
April 27, 2011
0.3