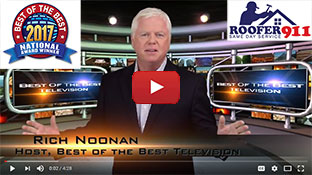 We Proudly Accept
Testimonial
What People Say About Us
Unbelievable! This was the first time I have had a repair contractor call me within 10 minutes of a web request. Beyond that, Steven showed up at my door a few hours later and here is the amazing part. He showed me where the leak was in the exterior ceiling around the window and told me how to repair it myself. I have never had a contractor refuse to do work because he felt I could fix it myself cheaper. I would recommend Steven at Roofer911 to anyone. He is honest, quick and bottom line, he saved me a ton of time and money.
Todd Reynolds
business
purcellville, VA
September 9, 2013
0.3
How many layers of roof shingles are allowed?
By: Steven Briesemeister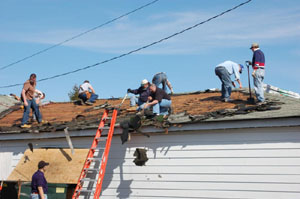 Whether you are considering having your home re-roofed or whether you simply want to upgrade your existing roof you should consider exactly how many layers of shingles you can and should have on your roof. You should also check with a roofing contractor that your roof and the building itself could cope with the extra weight burden that will be placed on them.
Obtaining a building permit.
A roofing contractor will know exactly how many layers of roof shingles are allowed in your area for your building but it is normal that you will be permitted up to three layers of shingles. In most cases two layers of shingles is advisable and three aren't normally required but if you live in an area that suffers from particularly strong wind or lengthy periods of heavy rain then you may want to consider a third layer. You should consult a roofing contractor to ask them whether you require a permit because even if they don't know off hand they will certainly know the correct people to contact.
General building codes.
Generally it is fine to have three layers of shingle codes but you should check this is the case with your local building permit people and you should make sure that your roof and the rest of the structure have the strength to cope with the extra weight. In some areas it may be necessary to obtain a permit to re-shingle your roof at all, but without the required permit your new roof is not legitimate. It really is important that you make sure you know how many layers of roof shingles are allowed on your roof.
Re-roof or strip the roof down.
Once you have discovered how many layers of roof shingles are allowed the next decision you should make is whether you will have the existing shingles completely removed to make way for two or three new layers or whether you will have another layer of shingles placed on top of the existing layer. Obviously, having the old shingles removed and replaced with several layers will work out to be slightly more expensive but laying more shingles down on existing shingles can look untidy if the original layer are damaged in any way. The best bet really is to have all existing shingles removed and new ones added in their place. As you can see, finding out how many layers of roof shingles are allowed is only the first step in having extra shingles added or replaced on your roof.
To obtain a Building permit in Fairfax county, Virginia, please visit http://www.fairfaxcounty.gov/living/buildingpermits/
Article Source: http://www.roofer911.com
Attention Publishers & Webmasters; Our Reprint Policies:

If you wish to publish/reprint any article from our site in your ezine, website, blog, forum, or
print publication, you must:

Submit Your Roofing Related Article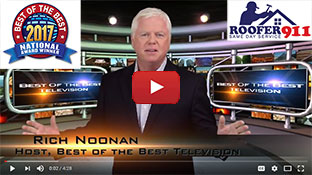 We Proudly Accept
Testimonial
What People Say About Us
HIGHLY RECOMMENDED!!! Roofer911 gave us an evaluation and estimate very quickly and all the work was done later that day!! The price was very reasonable for the roof repairs needed, they didn't propose to fix anything that didn't need it, and the work was professionally done with perfect cleanup afterwards. They even found a cracked stack pipe I wasn't aware of, and showed me a picture to explain why it could become a problem. I would confidently recommend Roofer 911 to anyone who wants superior work done at terrific pricing with same-day convenience. Best service experience around !
Gayle Berkeley
business
Herndon, VA
April 27, 2010
0.3