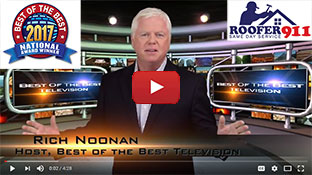 We Proudly Accept
Testimonial
What People Say About Us
The workers did their jobs in a timely and professional way. They did the repair yesterday and it has not rained yet to check the final outcome.
Mansour Farsad
business
Great Falls, VA
December 14, 2011
0.3
Roof Decking (An important choice)
By: Roofer911.com
The two most important features of a long lasting home are the foundation and the roof. If either of these is not properly constructed, the results can be disastrous. Most home owners will put a lot of thought into which type of roof they want. They will compare the costs and look of a wide variety of materials, from asphalt shingles to slate tiles. What about the roof decking material? This often overlooked piece of the roofing puzzle will be our topic as we compare some of the options available, as well as their strengths and weaknesses.
Oriented Strand Board (OSB) - Since it debuted in the late 1970's OSB has gained widespread acceptance especially in new residential construction. In 2006 OSB represented 60% of the North American panel market. OSB's strength is derived from the interweaving of wood strands bonded together by a waterproof resin binder, providing rigidity and moisture resistance. Because these panels are made with small pieces of wood that do not require the cutting of large trees, they tend to be less expensive than plywood. One drawback of OSB panels is their susceptibility to moisture. If used in an area with high humidity, such as a poorly vented attic, problems can ensue. Also, if a shingle becomes damaged and is not repaired (or noticed for that matter) immediately, there is a greater chance of having to replace the underlying panel.
Plywood – Is manufactured from thin sheets of wood veneer cross laminated and bonded together with a hot press. Throughout the thickness of the panel, the grain of each layer is positioned in a perpendicular direction to the adjacent layer. This process makes plywood less likely than OSB to shrink, swell, or warp. Panels made from plywood also tend to be less likely to rot if they should become wet, though wood type is also a factor. Performance and strength is virtually the same for both OSB, and plywood, with a slight rot resistance advantage going to plywood due to the fact that it dries quicker.
Insulation Panels – Several different companies produce this type of roof decking panels. Most of these types of panels contain synthetic materials such as polystyrene. While expensive, use of insulation roofing panels can pay for themselves in energy cost reduction as a part of certain roofing systems. Buildings in different climatic regions, built for different purposes, require different insulation solutions to have comfortable indoor temperatures.
Ultimately, the type of decking used will dictate which options are available. For instance clay or slate tiles will require a heavy duty roof decking to support the weight of the chosen materials. On the other hand if you live in a mild climate and just want some basic asphalt shingles installed you may be able to get by with a lot less. Always seek the advice of qualified professionals to help make any roof decking decisions.
For more visit http://www.umass.edu/bmatwt/publications/articles/osb_vs_plywood.html
Article Source: http://www.roofer911.com
Attention Publishers & Webmasters; Our Reprint Policies:

If you wish to publish/reprint any article from our site in your ezine, website, blog, forum, or
print publication, you must:

Submit Your Roofing Related Article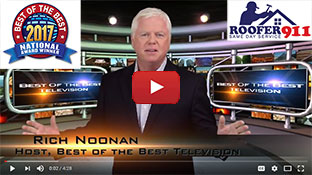 We Proudly Accept
Testimonial
What People Say About Us
Steve was great and so personable and positive about my leaky roof. He guaranteed that the price would not be changed if other problems were to arise in the problem area and would be fixed. Jorge the foreman showed me phone pictures of the completed work and explained how it was completed. The price could easily been escalated by a disreputable company. I have no way of knowing that my insulation really is great, and that the gutters are fine. Steve could have jacked all that up and I would never know the difference. I am so pleased with the forthrightness.
Grace Carter
business
Dumfries, VA
April 4, 2013
0.3