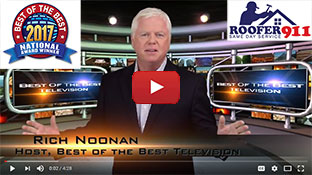 We Proudly Accept
Testimonial
What People Say About Us
Steve responded immediately to our inquiry--he was at our house within 20 minutes of our call and was able to provide an estimate for roof repair and gutter repositioning within minutes of his visit. When we contacted him to let him know we wanted him to do the work, his crew was here the same day. They were thorough and professional. Also, the fact that we were able to receive the proposal and sign the contract electronically was so convenient. Would highly recommend Steve's company, Roofer911, to anyone.
GM Settles
business
Alexandria, VA
May 22, 2010
0.3
Commercial Roofing: Protecting Your Business Investment
By: John Thompson
Business owners make their purchases based upon business decisions; they look at the entire picture and never rush into any type of purchase. This is an exceptional characteristic to consider when reviewing commercial roofing for your business. There are two important decisions you must make when choosing commercial roofing; one, consider the contractor for the job and two, consider the type of commercial roofing material you wish to use. Many times these two decisions depend a lot on each other; for example, if you choose to go with a metal roof for your commercial roofing needs; consider an experienced commercial metal roofing company. Not all commercial roofing companies have experience in all commercial roofing materials; therefore, choose the material and roofing company wisely.
There are several types of commercial roofing materials available on the market. Choosing the right type of commercial roofing material will depend upon your location, energy efficiency, durability, cost, as well as, cosmetic appeal. Common commercial roofing materials include sheet metal, asphalt, tile, and slate.
Sheet metal can be used on commercial roofing and offers the buyer a very cost effective long-term choice. Materials for sheet metal commercial roofing may include steel, aluminum, and even copper. Metal roofing generally lasts longer than other tiles, depending upon location; a good metal roof can last from 30 to 50 years. As well, metal roofing is less expensive than slate or tile roofing, and in most instances can withstand bad weather. If you would like a roof that could possible last a lifetime and more, copper is a great choice.
This metal is durable and although more costly has a life expectancy of 100 years.
Asphalt shingles are perhaps the most less expensive to purchase, however, their life expectancy is generally shorter than most other roofing materials. In general, an asphalt roof can last only 20 to 30 years. As well, many times they are easily obstructed by weather. Therefore, if you live in an area where weather is a consideration; you may want to keep searching.
Tile is a beautiful choice for commercial roofing. Tile roofing is available in clay, rubber, and even concrete. Although, clay is more astatically pleasing and costs more than other tile roofing materials; it offers no more durability than other tile choices; generally speaking, you can expect a tile roof to last approximately 50 years. Most tile roofs are very heavy and when considering this type of commercial roofing material, be sure to check with your architect to see if any special building reinforcements are needed.
Slate shingles are by far the most expensive choice when it comes to commercial roofing materials. In general, they do offer the business owner a long lasting durability and as well, they are very energy efficient. And in the long run, they can save you money on electric bills; but don't be surprised to pay 400% more upfront for materials and installation. Slate shingles offer a lifetime of coverage, some manufacturers say even 100 years if applied correctly.
Attention Publishers & Webmasters; Our Reprint Policies:

If you wish to publish/reprint any article from our site in your ezine, website, blog, forum, or
print publication, you must:

Submit Your Roofing Related Article