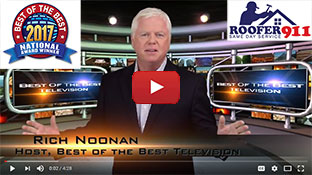 We Proudly Accept
Testimonial
What People Say About Us
I want to thank Steve and the workers at Roofer911. I called them a month ago in June 2013 to repair a leak in our main ridge vent. He came right away and they fixed it the next day. The repair has held through a month of heavy rain this summer. That said, due to the heavy rain we soon discovered another leak in a different ridge vent. I called Steve and he came the next day. He had his guys come the same day and fix the problem. I am confident the problem is fixed, but I know Steve stands by his work if any issues arise. Scott B., South Riding, VA
Scott Buzzeo
business
South Riding, VA
July 14, 2013
0.3
Should I re-roof over old roof?
By: Steven Briesemeister
Roof damage.
Simple roofing problems can very easily become bigger and more expensive problems if they are left unattended. For this reason the most effective way to prevent large repair bills to your roof is to have regular and thorough checks done. You can have a certified roof inspection done that will give you a two-year certificate. If anything goes wrong with your roof in this two-year period the roofing contractor who carried out the roofing inspection will repair the damages free of charge. By using a service similar to this problems can be identified early and rectified before they become too uncontrollable and a new roof is required.
Roofs can become damaged even with proper and regular care.
Despite your best efforts in having your roof regularly checked and maintained, however, there will come a time when you need to have a new roof. Whether this is because your old roof has become so damaged it is virtually beyond repair or simply because it is time for an upgrade, you should always use a professional to complete the work. They will know the best course of action to take for your particular requirements and they will also be able to advise you on the best type of roof and the best materials to use.
Hiring a professional.
When it does finally come time to replace your existing roof it will always be necessary to tear down some of the existing roof and in a lot of cases it will mean a complete tear down in order to start again. It is not a good idea to re-roof over old roof. It may be possible to save the insulation and the membrane, however, if there is any damage to either of these or if one or the other has become damp then it is prudent to have the whole thing replaced. If you do re-roof over old roof membrane or insulation that is damp this will not only make the existing roof that you leave in place ineffective but it will also have a knock on effect on the new roof that you place over the top. If you re-roof over old roof that is damp then the new materials you use will also become very damp very quickly. This can mean that the roof becomes instantly damaged or it may take several months of years to manifest itself. Either way you will have a roof that has a diminished lifetime on it because you chose to re-roof over old roof that was already damaged.
How do I determine if it is safe to re-roof over old roof?
A professional roofing contractor should be brought in to fully inspect the roof you already have. They will be able to tell you quickly whether you can save the membrane or the insulation or whether you should replace everything. They will use non-destructive techniques to check for damp, meaning that if it is feasible to reuse existing roof parts they will not have become damaged during the testing process. It will also be necessary to have the insulation and the membrane certified, guaranteeing that it is safe to use again.
Attention Publishers & Webmasters; Our Reprint Policies:

If you wish to publish/reprint any article from our site in your ezine, website, blog, forum, or
print publication, you must:

Submit Your Roofing Related Article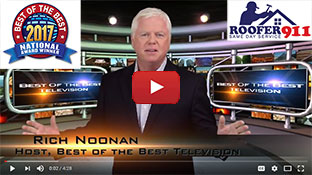 We Proudly Accept
Testimonial
What People Say About Us
Steve of "Roofer 911" is an outstanding person. His honesty, punctuality, knowledge, customer service and fairness is truly unique. His diagnosis was just perfect, but the degree of his certainty was astounding!! I called him for the roof leackage. He checked out and within five minutes said " I guarantee the leakage is 99.9% from your gutters. I'll repair your gutters, you wait for a couple of heavy rains and you'll see." He then repaired the gutters for a fraction of the cost of roof repair. He did this on a Sunday, since I was in a rush to deliver the house to my tenants. Later he proved to be 100% right. It has been four months since then and the leakage stopped there and then. No other roofer got even close to this. It was like everyone's eyes could only see the roof and not the gutters. He saved me time, money and hassel. I wish every contractor was like Steve. To me he acted like a symbol contractor.
Shahnaz Javid
business
Reston, VA
December 26, 2009
0.3