Roof Ventilation
How do I Know if my Attic isn't Properly Ventilated?
Improper attic ventilation has a variety of symptoms that can be easily spotted with a roof and attic inspection. If you spot any of the following symptoms of improper attic ventilation, don't wait before it's too late. Call Roofer911 at
Attic Ventilation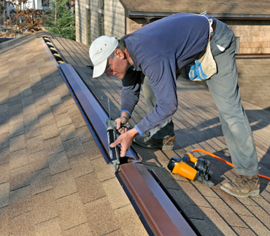 Installing an aluminum ridge vent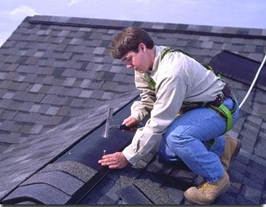 Installation of Shingle Vent 2 ridge vent with cap shingles.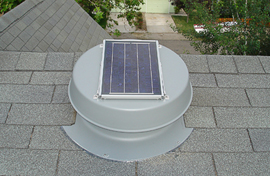 Solar attic fan.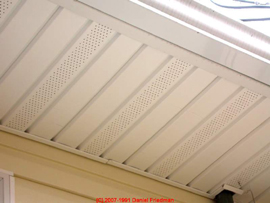 Soffit intake vents to allow cool fresh air into the attic space.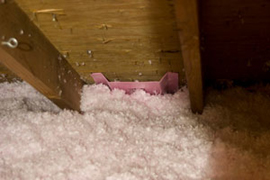 Attic insulation baffles to prevent blockage of soffit intake vents
(703) 475-2446 for a no obligation, no cost attic ventilation inspection.
• Curling Shingles - Curled shingles can be a sign that shingles are old and need to be replaced. But when they are less than 10 years old, it could be a sign that improper attic ventilation is occurring. As warm and humid air ventilate from the attic space, it has to escape through the cracks and gaps between your roofing substrate, underlayment and shingles. This humid air can curl shingles in between keys and where they butt together.

• Phantom Leaks - Sometimes poor attic ventilation can trap humid air from air conditioning equipment and other condensation ventilation in the attic space. Without good attic ventilation, this condensation can cause phantom roof leaks to appear in interior ceilings and walls.

• Mold - When mold or mildew is in your attic space, it's a sure sign that a roof leak has occurred. But if your roof leak isn't a roof leak and it's due to humid and moist air trapped in the attic, it can be the cause of mold and mildew. When black mold is allowed to form, it can not only cost a fortune in removal and replacement costs, it can also severely affect your health. If you spot any signs of mold or mildew in your attic space, immediately call Roofer911 at (703) 475-2446 or send us an email of your mold problems to Roofer911@gmail.com and we'll send a team of our qualified roofing ventilation experts to your home or business for a free inspection of your home or businesses attic ventilation needs.

• Ice Dams - Poor attic ventilation can also cause problems in the wintertime. When hot and humid temperatures inside the home leak into the attic due to weak insulation or faulty heating equipment, it can cause the surface of the attic roof to heat up. This will in turn heat up the shingles of the roof. As accumulated snow on the roof heats up and melts, it flows down the roof to the cooler eaves. Here it refreezes into an ice dam, blocking further water from flowing off of the roof. The water must go somewhere and it does—right through roofing materials and into the homes attic.
Attic ventilation Inspection
To truly determine whether you home or businesses attic ventilation is not doing its job, you'll need to have an experienced roofer inspect your roof, attic and walls for defects in the ventilation and insulation. Roofer911 provides a complete and total attic ventilation assessment to find and cure your structures roofing ventilation problems. We use infrared thermal photography to find your homes insulation and ventilation weak spots, so we'll be sure to find and fix any roofing ventilation problems permanently. So what are you waiting for? Call Roofer911 at (703) 475-2446 or send us an email at Roofer911@gmail.com and we'll provide you with a no cost attic ventilation inspection for your North Virginia home or business.
We can take care of that system and makes sure your energy bills are low.

To save money on your heating and electrical bills, it's extremely important to ensure that your home is properly ventilated. Visit http://www.oikos.com to find more information about energy efficiency, attic ventilation and the construction of environmentally responsible homes.
Browse other blogs by keywords:
attic ventilation exhaust roof vents Ice Dam Insulation intake vents mold
0 Responses to "Roof Ventilation"
Speak Your Mind!
Tell us what you're thinking...
and oh, if you want a pic to show with your comment, go get a gravatar!