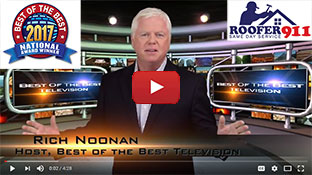 Woodbridge Roof Repair
SUPERIOR WORKMANSHIP AND GUARANTEED SATISFACTION!
Common Services
in Woodbridge

Our highly sensitive infrared camera detects a hidden roof leak inside this bathroom caused by an improperly installed vent pipe on the roof.

Did you know that a single roof leak can have more than one source. Our roof repairs are guarantee to stop ALL roof leaks, no matter how difficult the problem.

Our solar attic fan removes excess heat from your home, giving you a more comfortable interior and lowering your energy bills. Call 703-475-2446 for more details.

Customer satisfaction is our ultimate priority and this shows in the individual care and attention we give each new roof installation. All our work is fully guaranteed.
In Woodbridge, roof repairs are very important. Now, the climate is usually pretty mild. The temperatures are never too hot or too cold, it's hottest in July and coldest in January. Rainfall averages 3+ inches per month. The winds are never too forceful, and snowfall is never too much. Woodbridge is a great place to live. However, these are the usual conditions. What happens when storms come in?
Contributory Factors
Hurricanes, storms, and superstores (Sandy) have a habit of increasing the winds and dumping a lot of water in a short time. Often, being in a coastal region, Woodbridge and all of Virginia will see conflicting fronts coming in from either side of them. You can't expect to handle that intensity if your roof is weak or it needs repairs. The key to doing well during a storm is a well maintained roof. This will effect your roof during the rest of the year.
The Old One-Two
Even during mild weather times, the elements will wear down your roof; it happens to the newest of roofs. Wind and the ultraviolet rays in sunlight will dry out roofing materials over time. This will make the materials more brittle and susceptible to loosening. It will also break down the compounds that seal your roof around extruding pipes, vents and even chimneys. Rain and moisture don't bother your shingles, tiles, or metal roofing because they are designed to be waterproof. They do, however affect the deck underneath the top layer of roof.
Moisture has a habit of finding its way into your roof. It will get under shingles, for example, and cause the wood sheeting to expand and contract as the roof goes through its cycle of getting wet and drying. If the nails or screws holding down you're to layer of roofing get loose. You stand a good chance of losing precious shingle or tile, and when pieces of your roof go missing, like being blown away, that leaves your home extremely vulnerable. So in a combination effort like a one-two punch, the drying out of the materials and the loosening of the sub-roof weakens and wears the roofing materials down so they are less effective and potentially coming off in the wind. Even the roofs made with the best of materials wear down over time. It's just a natural process.
Sometimes your house is a home to unwanted guests. Insects, squirrels, rats, bats, etc, often find a way into your attic through your more vulnerable roof areas. Once inside they will bask in the luxury of your home; eating, eliminating, and destroying the ecosystem of your attic. Needless to say, you don't want bats in your belfry.
The Real Damage
Holes can be costly. This allows water into your roof first, and then follows the path of least resistance to a more destructive place. Water can pool in your attic, walls, or basement. Sitting water breeds harmful bacteria and mold that you do not want your family to encounter. Wet walls need restoration experts to come in and dry out your housing structure. You must stop the leak at its source before real damage occurs.
What to Do
Your roof has to put up with a lot in order to protect your family, why not lighten its load and maintain it. Regularly scheduled roof inspections enable you to be aware of the condition of your roof, and correct any deficits that may be occurring. If you have holes, wearing or lost materials, or intruders, a regular inspection will discover this, and reduce the cost of roof repairs by minimizing the deterioration process. This just makes sense. A simple phone call to your certified Woodbridge roof repair specialist will take care of the matter.
Where can I find more information on roofing and renovations in Woodbridge, VA? Your best bet is to visit your Woodbridge area building department; items such as zoning and local ordinances should be looked at; visit www.pwcgov.org for more information.
Serving the following zip codes: 22191, 22192, 22193, 22194, 22195
Our Complete Range of Roofing Services in Woodbridge, VA include:
Leave Your Comments
Read Ratings & Reviews Posted By Homeowners in Woodbridge Virginia, VA for Roof Repair & Installation
17
user reviews with an average of .
Total of
Leave Your Comments
Recent Free Roofing Estimates Requested from Roofer911
Type of Service: Roof Repair, Not Emergen
Date Submitted: Sunday, March 12, 2017 - 8:56 AM
City: Woodbridge
State: VA
Customer Type: First Time Customer
Description: We had one shingle come off the roof recently and needs to be repaired. I'd also like someone to do a full inspection of our roof and make sure the rest of the roof is ok and reinforce/repair as necessary. We get a lot of wind being an end unit townhome in our community. Please bring a long ladder.



Type of Service: Other
Date Submitted: Wednesday, May 25, 2016 - 12:33 PM
City: Woodbridge
State: VA
Customer Type: Referral
Description: possible leaks in several parts of the roof after rain 18 days in a row and hail storm on Monday 5/23. Parts of ceiling on top level showing creases on surface and edge of carpet wet in master bedroom



Type of Service: Emergency Roof Repair
Date Submitted: Thursday, May 1, 2014 - 9:30 AM
City: Woodbridge
State: VA
Customer Type: First Time Customer
Description: I have a minor leak in attic and minor dry wall damage. Looking for a free estimate today or early tomorrow morning.



Type of Service: Gutter Repair
Date Submitted: Sunday, February 9, 2014 - 9:37 AM
City: Woodbridge
State: VA
Customer Type: First Time Customer
Description: I have some gutter spikes that have worked loose and need to be tightened.



Type of Service: Roof Repair, Not Emergen
Date Submitted: Tuesday, February 4, 2014 - 10:22 PM
City: Woodbridge
State: VA
Customer Type: First Time Customer
Description: There is a leak but it is not an emergency yet, but I would like to get it looked at as soon as possible.