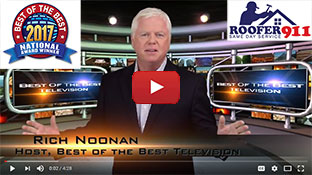 Gainesville Roof Repair
SUPERIOR WORKMANSHIP AND GUARANTEED SATISFACTION!
| | | |
| --- | --- | --- |
| | | |
| This customer had a water stain on the bathroom ceiling due to a detriorated vent pipe flange on the roof that was removed and replaced. | | |
| | | |
| With our highly sensitive infrared camera, we've taken the guess-work out of finding roof leaks, "We SEE Leaks"! | | |
| | | |
| At Roofer911, we treat each and every new roof installation as if it were our own home. All roofing procedures are done according to manfacturer specifications. | | |
| | | |
| The leak inside this home only occured during wind-driven rains or melting snow. Between the blue dotted lines is the path the water was traveling inside the exterior wall from the ridge vent (red double arrow) and settled next to the main entrance door. | | |
| | | |
| When we perform vinyl siding repair, we pay strict attention to fastening each panel into the wood studs inside the wall every 16" to 24" which will prevent wind blow-off. | | |
Gainesville, with its population of 11,000 people, dates back to the mid-19th century when it was a changing point for stagecoaches. Eventually people fell in love with the area and began moving in. Today, it is a very popular place to live, thanks in no small part to the climate. Of course, that climate can be a bit wild. As home owners, we all need to be prepared for the inevitable roof repairs and such needed to keep the house ready for anything nature throws at it.
We sit in the humid subtropical climate belt, with mild winters and hot, humid summers. The heat and humidity help to create some strong and frequent thunderstorms. Every time one of those storms comes through your area, you get to sit inside your home in comfort, while your roof takes on the role of Superman, blocking all the bad weather from your reach.
Over time, the "kryptonite" combination of snow in the winter, hot humidity in the summer and frequent high winds, beats up your roof to the point that it can no longer do its job to full capacity. As each storm comes through, the rain and wind tear at your shingles. The UV rays from the sun cause the adhesives in the shingles and sealants to evaporate, causing them to shrink and crack. The elements that are supposed to stay outside begin to creep inside. When water contacts the interior structure of your home, the result is corrosion, rot, mildew and toxic black mold.
The anatomy of a leak
When you make the decision to have work done on your roof, there are several things that will be assessed by our experienced roofing contractors. First, they will look at the roof itself and determine whether or not a roof repair will do it. If your roof has sustained damage over more than a third of the surface area, it may be time to have a roof replacement. Eventually, a roof just can't stand up to the job any longer, and a new roof is the best option. If we determine that a permanent fix will handle the problem, we'll do the repair, especially if it will extend the life of your roof by several years.
You'll also need to have the interior structure of your home checked, all the way to the basement. Obviously water takes a path of its own choosing, and regardless of where it entered through your roof, it can end up just about anywhere inside your house. Everything it touches is damaged. Damp insulation encourages the growth of toxic black mold, and decreases in R-value.
What if I don't do it?
If you decide that you just don't want to have your roof fixed now, beware of the consequences. Your roof is designed to protect the entire house from the elements, and when it fails, the rest of the house can deteriorate rather quickly. The longer you wait, the worse the problem is going to get. It is not going away. The holes in your roof won't magically heal of their own volition. You can temporarily divert the cost, but a major water restoration project down the road will be horrifically expensive.
A roof naturally wears down from sheer exposure to the elements we have in Gainesville, so it is inevitable that it will need some TLC. Without a waterproof shield covering your home, the damage will get out of control. A roof lasts longer with a few roof repairs along the way. It also adds value to your home and increases in energy efficiency, thus reducing your expenses.
Serving the following zip codes: 20155, 20156
Our Complete Range of Roofing Services in Gainesville, VA include:
Leave Your Comments
Read Ratings & Reviews Posted By Homeowners in Gainesville Virginia, VA for Roof Repair & Installation
2
user reviews with an average of .
Total of
Leave Your Comments
Recent Free Roofing Estimates Requested from Roofer911
Type of Service: Emergency Roof Repair
Date Submitted: Thursday, March 9, 2017 - 11:14 AM
City: Gainesville
State: VA
Customer Type: First Time Customer
Description: Interested in replacing missing shingles due to storm damage.



Type of Service: Roof Repair, Not Emergen
Date Submitted: Wednesday, February 25, 2015 - 7:55 PM
City: Gainesville
State: VA
Customer Type: First Time Customer
Description: I believe I have a Ridge Vent roofing issue on my 3 story townhouse. Please advise on pricing or repair. Wind damage likely the cause. No internal leaks so far, but a repair definitely needed.



Type of Service: Emergency Roof Repair
Date Submitted: Monday, January 13, 2014 - 10:01 AM
City: Gainesville
State: VA
Customer Type: First Time Customer
Description: During the recent rain, discovered a water leak in master bathroom, water leaking from light fixture. Not sure if leak is from the roof, window or siding. need someone to inspect.



Type of Service:
Date Submitted: Wednesday, July 18, 2012 - 9:49 PM
City: Gainesville
State: VA
Customer Type:
Description: Roof and gutter repair



Type of Service:
Date Submitted: Thursday, July 5, 2012 - 7:12 AM
City: Gainesville
State: VA
Customer Type:
Description: Part of a tree fell on shed, need tree removed and roof tarped.