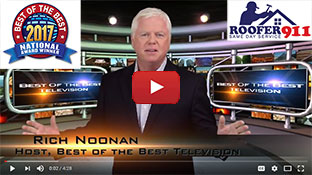 Roof Repair Dale City, VA
SUPERIOR WORKMANSHIP AND GUARANTEED SATISFACTION!
Ten Reasons why your Dale City Home Might Leak
If you live in Dale City, Virginia, then you know exactly what humid weather is all about. Humid weather not only affects you personally making you sticky and uncomfortable, it also creates problematic situations for your roofing materials. Mold and moisture tends to thrive in these moist and damp conditions. It only takes one roof leak and 24 hours to cause mold and mildew to form on your roof, in your attic and throughout your home's interior. Identifying areas susceptible to leaks can help you to prevent mold and mildew before they start. Use these ten reasons why your Dale City home may leak and you'll be sure to prevent big problems before they have a chance to start. If you find any of these ten problems on your roofing system, give Roofer911 a call at (703) 475-2446 for a no obligation roof inspection and free estimate. Roofer911 offers same day service and roof repair to make sure your roof is fixed as quickly as possible, long before bigger problems start.
Hidden Roof Leaks Detected with Infrared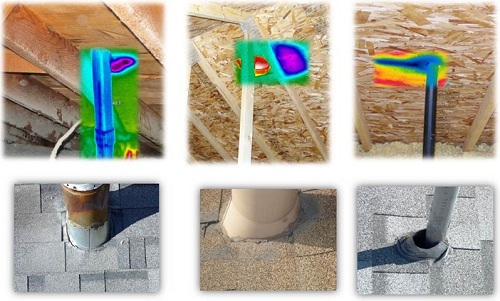 1. Leaf Debris - One of the biggest problems is leaf debris. If it is allowed to settle for long periods onto any roof surface, it can speed up the decay of the roofing materials, allowing water to penetrate into the structure and become a catalyst for mold and mildew growth.
2. Gutter Clogs - Gutters can be a problem hot spot for roof leaks. When gutters are allowed to clog with leaf debris or are improperly installed, they can easily cause water to infiltrate the home through soffit, fascia and siding.
3. Decaying Sealants - Plumbing pipe penetrations, seams along drip edge and areas around flashings are all sealed with petroleum-based sealants that decay over time. Look for dark discolorations and staining as these are signs of potential leaks.
4. Damaged Pipe Boots - The lead boots that are commonly used to seal around plumbing pipe penetrations can be easily damaged during installation and even long after from a stray boot or tree branch. If you see any cracks around lead boots, call Roofer911 today at (703) 475-2446 for a free inspection of your homes lead boots.
5. Leaky Skylights - Skylights are prone to leaking just like any other roofing penetration. Be sure when inspecting skylights that you look for discolored or rusting areas around flashings. These are sure signs that your skylight may be on its way to developing a leak.
6. Missing Shingle Tiles - Whether it's from age or storm damage, missing shingle tabs and tiles are an invitation to a leaky roof. When you're inspecting your roof to prevent leaks, look for broken or missing tiles. Immediately call a roofing contractor for an estimate to prevent further damages to your roof.
7. Ventilation - Ridge vents, offset vents and gable end vents are all used to keep your attic area well ventilated both during the summer and winter to prevent excess moisture buildup in the summer and prevent ice dams from forming in the winter. But ventilation access vents can leak due to aging, improper installation or storm damages. Call Roofer911 at (703) 475-2446 for a no obligation inspection and a free quote on repairing your ventilation system roof leak.
8. Storm Damages - When strong winds, heavy rain, slippery sleet or piles of snow come through the Dale City area, you can be sure roof leaks will happen. Protect your roof from storm damages by removing overhanging trees and braches at least four feet from your roofing system.
9. Siding Problems - Old and dated siding can be a big leak problem if it is allowed to fall into disrepair. Protect your home's interior from water damages by repairing any siding that is staining, peeling, cracking, splitting or missing on your home.
10. Windows - Areas around windows can be leak hazards too. When you're inspecting the rest of your home, check around windows for yellowing caulking, peeling seals or other signs of water damages. If you suspect you may have a window leak, call Roofer911 at (703) 475-2446 for a free, no obligation window inspection today.
For information regarding building and services offered to those residing in the Dale City area; visit the county website at www.pwcgov.org
Serving the following zip codes: 22193
Our Complete Range of Roofing Services in Dale City, VA include:
Leave Your Comments
Read Ratings & Reviews Posted By Homeowners in Dale City Virginia, VA for Roof Repair & Installation
2
user reviews with an average of .
Total of
Leave Your Comments
Recent Free Roofing Estimates Requested from Roofer911
Type of Service: Emergency Roof Repair
Date Submitted: Friday, June 1, 2012 - 4:06 PM
City: Dale City
State: VA
Customer Type: First Time Customer
Description: I spoke with Steve and I have a roof leak with visibile mold on ceiling in master bedroom closet.