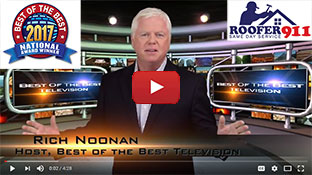 Bull Run Roof Repair
SUPERIOR WORKMANSHIP AND GUARANTEED SATISFACTION!
| | |
| --- | --- |
| | |
| We've taken the guess-work out of finding roof leaks. Infrared photo above shows a hidden leak (blue) caused a deteriorated vent pipe on the roof. | |
| | |
| Call the roofing professionals at Roofer911. Tree fall? Shingles blown off? Ice Dam? Need an emergency repair fast to prevent further damage from happening? Call 703-475-2446. | |
| | |
| We are committed to going above and beyond a customers expectations. We are dedicated to great customer service, professional installations, and high quality products. | |
| | |
| Do you have an ongoing, hard to find roof leak that others cannot solve? No matter how consistant or sporadic we stop them all, guaranteed! | |
| | |
| | |
If you live in Bull Run, as 11,000 other people do, and you think you have a roof problem, don't ignore it, deal with it. Each year, high heat in the summer, cool air in the winter, as well as 40 inches of rain, 17 inches of snow and high humidity, all come together to beat up your roof. Your roof stands up to those elements, day after day, keeping the inside of the home dry, comfortable and safe.
No different than a prize fighter taking punches to the head, your roof can only stand up to so much before it collapses. Hopefully you deal with the problem before your roof collapses, but it is important that you are aware that over time you will need roof repairs. Being proactive will save you a lot of money, a lot of time and a lot of stress.
Spend Money Now, Save Money Later
It may seem odd that by spending now, you are saving money later on your roof but it is true and here is how:
1.First of all, the problem with your roof will never go away. That pinhole leak will only grow and become worse as time goes on. It will continue to rot the wood and wear it away. That will never change. The sooner you deal with the problem, the less you are going to pay and that is just the simple fact. The longer you wait, the worse the problem gets. The bigger dent it will make in your bank account to have the repairs done.
2.If your roof is not working at 100 per cent, it is letting out warm/cold air and letting in warm/cold air depending on the season. This is directly related to the insulation and ventilation in the attic. Poor ventilation traps humidity, which leads to damp insulation. Wet insulation loses R-value. This causes your energy bill to go up, and it is actually costing you money.
3.If your roof is compromised, it won't take long for rodents, bats and insects to begin taking up residence. Think about all those spiders in your attack multiplying because they have way in, or the sound of rats gnawing on your ceiling as you try to sleep. That is a reality if you don't deal with a roof problem immediately and get a roof repair done.
4.Consider water trickling through your house where it does not belong. The consequence is rot, corrosion and mildew. It destroys drywall and causes the paint to peel on your walls. It encourages black mold, which is highly toxic, even deadly to the people living inside.
What do we do?
Once of the best things you can do for your Bull Run home is schedule an annual roof inspection. When you call us, we send out our expert roof contractors to you to make sure that minor problems are fixed before they get out of control. This type of maintenance will even extend the life of your roof for several more years.
You may be asking how much is this going to cost me, the real question is how much will it cost if you wait until later to stop a leak. When you deal with the roof problem immediately and don't let it get any worse, the cost is far less than a major water damage restoration project. A new roof starts to break down the moment it is installed, just from normal stress dealing with the weather. An ounce of roof repair prevention today is worth a pound of roof replacement tomorrow.